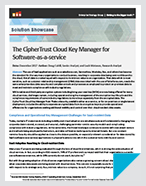 The CipherTrust Cloud Key Manager For Software-as-a-service - White Paper

SaaS applications such as a salesforce.com, ServiceNow, Workday, and others have become the standard for the way many organizations conduct business, resulting in corporate data being sent northbound to the cloud.
While native and third-party encryption options including bring your own key (BYOK) are now being offered for many cloud services, challenges remain, including operationalizing the management of the encryption key lifecycle and the compliance requirements of some industry regulations to store keys separately from the encrypted data.
Download this paper to gain the perspective of Doug Cahill, Senior Analyst at the Enterprise Strategy Group, on Key Management for Software-as-a-service (SaaS).
If you have immediate questions, email us at sales@thalesesec.net or call us at +1-888-267-3732