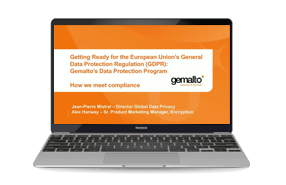 How to Prepare for GDPR: A Gemalto Case Study - Webinar
Join us for a new webinar in our series focused on helping companies prepare for the upcoming global government regulations, like European General Data Protection Regulation (GDPR). Data sovereignty, especially for cloud-first companies, is becoming an important part of any security strategy as these data breach regulations go into effect next year. Being able to demonstrate best efforts to protect the privacy of an individual's data will be a requirement and non-compliance will have hefty monetary ramifications.
This webinar will walk attendees through what Gemalto has already done and is doing to prepare for data privacy regulations from product management to sales operations and more. Our Director of Global Data Privacy, Jean-Pierre Mistral, will share how and what we have done, takeaways and timelines and Alex Hanway, Product Marketing, will cover the different technologies companies can use to mitigate the risk of non-compliance and what this means for business operations globally.
Join us to hear more about:
What is GDPR?
Case Study: A look at how Gemalto has prepared for GDPR
The implications for local businesses and technologies that can help mitigate risk around complying with data privacy regulations
Watch On Demand