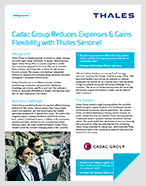 Cadac Group Reduces Expenses & Gains Flexibility - Case Study
Cadac Group is a leading provider of solutions to create, manage, and share digital design information. As design is becoming more digital, Cadac Group offers its customers expertise to enable them to be better prepared for the future.
Cadac Group wanted a single licensing platform that would be flexible enough to support its hybrid mix of cloud-based solutions and traditional on-premises software applications. The company initially considered developing a licensing solution in-house, but quickly realized that since they lacked in-house licensing expertise, it made more sense to purchase a leading commercial licensing solution.
Download