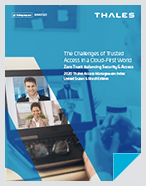 2020 Access Management Index - US/ Brazil - Report
The 2020 Access Management Index - United States / Brazil Edition, is a survey of 300 IT professions across the U.S. and Brazil with responsibility for, or influence over, IT and data security. This research explores access management practices within businesses and the use and importance of two-factor authentication, smart SSO and cloud access management tools.
Reveal key finds within Access Management including:
41% of respondents believe usernames and passwords are one of most effective access management tools despite known weaknesses.
65% believe that unprotected infrastructure present the biggest targets for cyber-attacks.
94% reveal that data breaches in the last 12 months have influenced their organization's security and access management policies.
Discover additional findings within our 2020 Access Management Index, download our Report!