Sensitive data is everywhere. In a climate of advanced threats and breaches, dense virtualization and multi-cloud deployments, evolving regulatory mandates, and accelerating mobility, enterprise data protection solutions allow organizations to secure and control their sensitive information while improving efficiencies—even in the most complex environments.
Thales's Identity and Data Protection solutions offer a complete portfolio of encryption, multi-factor authentication, and key management solutions that extend protection and ownership across the lifecycle of sensitive data, as it is created, accessed, shared, stored and moved. From the datacenter to the cloud, enterprises can remain protected, compliant and in control, no matter where their business takes them. 
Explore Our Identity and Data Protection Solutions

"Both within our own internal operations and within our FinQloud offering, maximizing security of sensitive data is a critical mandate. Thales data protection capabilities are part of FinQloud, which helps us meet our industry's stringent security and compliance objectives."
- Adam Honoré, Managing Director, FinQloud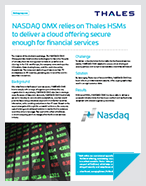 NASDAQ OMX - HSM - Case Study
The inventor of the electronic exchange, The NASDAQ OMX Group provides transformative technologies for the entire lifecycle of a trade—from risk management to trade to surveillance to clearing. In the U.S. and Europe, the company owns and operates 23 markets, three...

IDC Report Analyzes Business Impact of Encryption
IDC analyzes the business impact of encryption. Discover the key obstacles identified and recommendations provided to help IT security professionals gain insight into how building a threa...

Frost & Sullivan Encryption and Data Protection Technology Leadership
Frost and Sullivan presented Thales with the Technology Leadership award, as the company demonstrating uniqueness in developing and leveraging new technologies that significantly impacts...