Technological innovation is driving the next generation of critical infrastructure, allowing enterprises to improve service, optimize operations, and ultimately deliver better value to stakeholders. Utilities and energy providers gather and communicate valuable information in real time using IoT-enabled sensors, use Big Data and Artificial Intelligence (AI) to power better decision making, and ultimately deploy next-generation infrastructure like "Smart Grids". 
But hacker groups increasingly target weak links in the complex Hybrid IT and OT infrastructure to disrupt operations. In 2021, cyber attacks on critical infrastructure organizations in the US alone have increased by 300%, presenting a clear and present danger to the transformation that is essential to their future.
How can you reduce the risk of attacks such as ransomware and malware?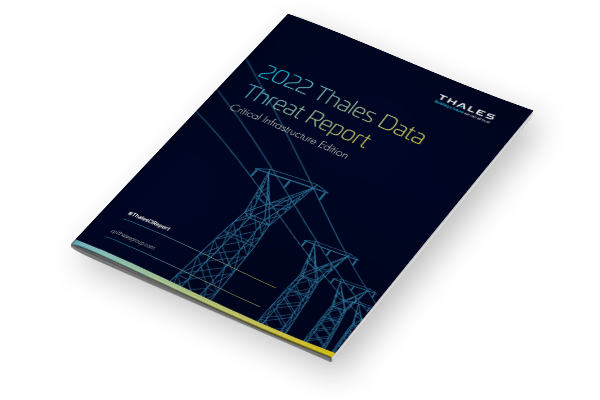 2022 Thales Data Threat Report
Critical Infrastructure Edition
Download the Critical Infrastructure Edition and read about navigating
data security trends and changes in today's business.
 
Get the Report

How Thales Can Help Accelerate Digital Transformation
Offer better services by adopting innovations faster with a framework for a zero-trust world Increase Resilience and Efficiency
Automate and streamline data protection and access management across hybrid IT and OT infrastructure Reduce Risk and Complexity
Simplify compliance and minimize reputational risk with centralized data security governance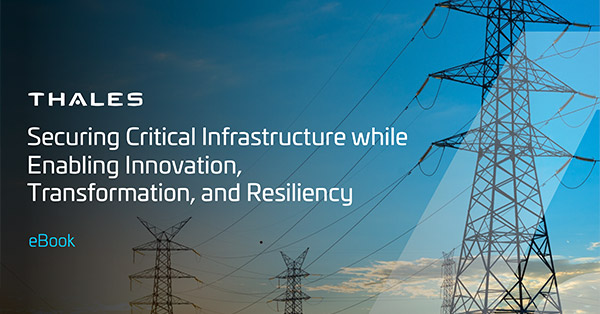 Securing Critical Infrastructure while Enabling Innovation, Transformation, and Resiliency - eBook
The growth of cyber incidents is challenging the transformation that is essential to the future of utilities and energy providers. Thales enables critical infrastructure security while enabling innovation, transformation, and increased resiliency.
Read More About Securing Critical Infrastructure
Accelerate cloud migration and compliance with CipherTrust Platform
Accelerate time to compliance by centralizing data discovery, classification, data protection, and unprecedented granular access controls with centralized key management – all on a single platform. Apply policy-based data and access security to protect Personal Health Information (PHI) based on specific regulation requirements such as NERC, FERC, ISO 27799:2016, GDPR, and more. 
"CipherTrust Data Security Platform provided a secure path to cloud migration with minimum disruption for even the most sensitive data for this global energy provider."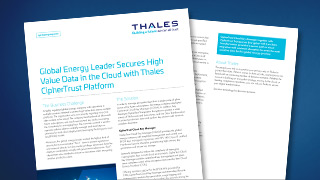 Global Energy Leader Secures High Value Data in the Cloud with Thales CipherTrust Platform
A highly regulated global energy company with operations in multiple countries needed to protect high-value data across multiple platforms. The organization was concurrently migrating most of its data centers to the cloud. The company had hundreds of Microsoft Azure subscriptions, and each used several key vaults, increasing the complexity for managing keys. The customer wanted a vendor-agnostic solution able to centrally manage and store keys on premises for multi-cloud deployments leveraging the bring your own key (BYOK) model.
Improve resilience by using HSMs to protect Internet of Things (IoT), digital signatures, and certificates
Critical infrastructure providers are embracing new connected technologies such as connected sensors, cameras, drones and other IoT devices. When implemented with the proper level of security these innovations can provide better customer experience, resilience, and lower cost.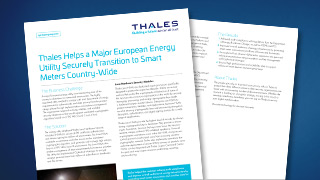 Thales Helps a Major European Energy Utility Securely Transition to Smart Meters Country-Wide
A major European energy utility was transitioning most of the country's subscribers to connected smart meters. This highly regulated utility needed to comply with strict department of energy requirements for cybersecurity and data privacy from the product design phase through implementation and systems management. The organization required a strong, reliable, and scalable security infrastructure that would support mandated cryptographic algorithms based on a FIPS 140-2 Level 3 root of trust.
Centralize secure access to all platforms with access management and advanced authentication
Simplify user access to cloud services, streamline cloud identity management, and eliminate password hassles for IT and users, while providing a single pane view of access events across your app estate to ensure that the right user has access to the right application at the right level of trust. 
"A major UK energy utility achieved audit compliance and improved overall resilience of energy infrastructure by using Thales solutions to protect smart meter connections and sensitive data for millions of homes and businesses."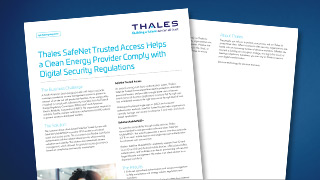 Thales SafeNet Trusted Access Helps a Clean Energy Provider Comply with Digital Security Regulations
A North American clean energy provider with major corporate customers needed an access management solution to protect its network of on-site fuel cell production facilities. As an energy utility, it needed to comply with cybersecurity mandates from the Federal Energy Regulatory Commission (FERC) and North American Electric Reliability Corporation (NERC). The organization required a scalable, flexible, resilient multi-factor authentication (MFA) solution to protect access to distributed facilities.
Protect sensitive data in motion with end-to-end security and high performance
Protect data in motion with solutions that provide a single platform to encrypt everywhere, from network traffic between data centers and the headquarters to backup and disaster recovery sites, whether on premises or in the cloud.
"A large clean energy provider in the US achieved successful protection of critical energy production systems, and compliance with energy industry regulations, with Thales centralized authentication and access management."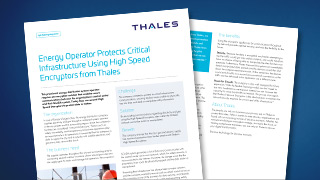 Energy Operator Protects Critical Infrastructure Using High Speed Encryptors from Thales
In one of Europe's largest cities, this energy distribution company supplies electricity and gas through a combined system operator in the city proper and the surrounding region. Since the company's facilities are considered "critical infrastructure," factors such as safety, traceability, and transparency to business operations play an important role in its operations. It is essential that the company is able to supply the city and its suburbs with reliable electricity and gas every day, around the clock.
"Thales high speed encryption appliances protected communication throughout the network, providing optimal security, speed, and compliance for this major European energy provider."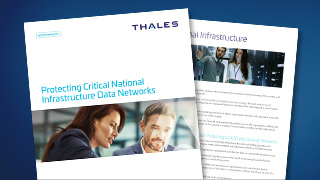 Protecting Critical National Infrastructure Data Networks
Critical National Infrastructure may be defined as "those facilities, systems, sites and networks necessary for the functioning of the country and the delivery of the essential services upon which daily life depends".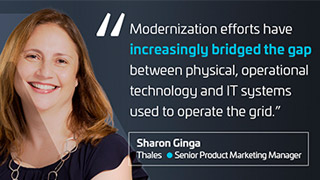 Data Encryption Shields the Energy Sector Against Emerging Threats
The energy sector is part of the critical national infrastructure (CNI), and delivers services that are essential for modern life. According to the EU NIS Directive, these entities are Operators of Essential Services (OES) and their reliability and ability to meet consumers' demands at all times is of national interest. The reliability of their services can be impaired by cyberattacks on the IT and operational technology (OT) systems that support their operations. Cyberattacks could result in widespread loss of services causing large-scale blackouts, disruptions in business operations and even deaths.