*UserSpace refers to all of the code in an operating system that lives outside of the kernel. Most Unix-like operating systems (including Linux) come pre-packaged with all kinds of utilities, programming languages, and graphical tools - these are user space applications.
Linux is a highly secure operating system by design. However, in the face of sophisticated cyber-attacks and evolving privacy regulations, extra measures are needed to keep your data safe. Securing your data through CipherTrust Transparent Encryption UserSpace* is not only smart, it's critical.
Use CipherTrust Transparent Encryption UserSpace (CTE UserSpace) to ensure your sensitive data stays secure and in compliance, whether stored in on-premises data centers, big data, or in the private or public cloud.
CTE UserSpace provides a robust and scalable file system level encryption and access control solution for the variety of flavors of Linux servers in the distributed enterprise without changes to infrastructure or applications. Once deployed, files containing sensitive data are rendered useless in the event of a breach, misuse or hijacking of privileged accounts, physical theft of servers, and other potential threats.
CTE UserSpace is used in conjunction with CipherTrust Manager which centralizes encryption key and policy management for the CipherTrust Data Security Platform. The solution encrypts sensitive data, such as credit card numbers, personal information, logs, passwords, and more in a broad range of files, including word processing documents, images, database files, archives, and backups.

Transparent data protection
CipherTrust Transparent Encryption UserSpace continuously enforces file-level encryption that protects against unauthorized access by users and processes and creates detailed data access audit logs of all activities without requiring changes to applications, infrastructure, systems management tasks, or business practices.
Seamless and easy to deploy
CipherTrust Transparent Encryption UserSpace connectors are deployed on Linux servers at the file system level and are agnostic to Linux kernel patches. Supports continuous Linux server patching without connector changes.
Lower maintenance costs
It is based on Linux FUSE libraries which allows it to be deployed across different Linux distributions. Not requiring continuous updates allows user to keep administration costs low.
Granular access controls
Specific policies can be applied to protect data from external attacks and misuse by privileged users. Controls also include access by process, file type, and other parameters.
High-performance hardware accelerated encryption
It only employs strong, standard-based encryption protocols, such as the Advanced Encryption Standard (AES) for data encryption. Encryption overhead is minimized using the AES hardware encryption capabilities available in modern CPUs.
Achieve Compliance
CipherTrust Transparent Encryption UserSpace helps achieve compliance with a variety of regulations that require encryption of data including credit card numbers for PCI-DSS compliance, electronic patient health information (EPHI) for HIPAA, and personal identifiable information (PII) to comply with many regional data privacy regulations.
Transparent, Strong, and Efficient Encryption
Apply transparent and automated file system-level encryption in physical, virtual, and cloud environments
Define and enforce granular access control policies
Privileged User Control
Prevent rogue root administrators from impersonating other users and accessing protected data
Secure Data Archiving and Destruction
Keep data encrypted and unreadable to server administrators performing back-up and restore tasks
Ensure all secured, sensitive data is rendered unreadable in the event data destruction is required
Easy Implementation and Management
Utilize remote, silent automation tools for quick and easy deployment in large and small environments
Streamline administration with centralized policy and key management in FIPS compliant hardware
Built-in key rotation capability Achieve Compliance
Ensure separation of duties
Track and audit user access to protected data and keys Multi-language Support
Encrypt files and folders written in Arabic, Japanese, Korean and other languages. Encryption and collaboration aren't mutually exclusive across geographies.
How can you provide a clear path to comprehensive data security?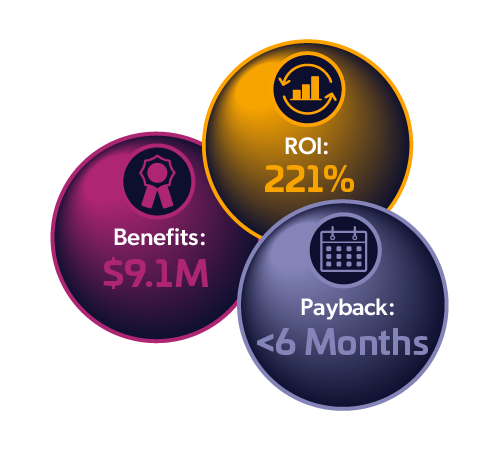 Total Economic Impact™ of Thales
CipherTrust Data Security Platform
Cost Savings and Business Benefits
Enabled by the CipherTrust Data Security Platform
 
Read the Study
Calculate the ROI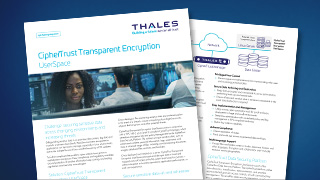 CipherTrust Transparent Encryption UserSpace
CipherTrust Transparent Encryption UserSpace is a part of the CipherTrust Transparent Encryption suite of products, and provides automated a robust and scalable file system level encryption for multiple flavors of Linux servers in the distributed enterprise.