Prevent Ransomware Attacks
Learn how Thales data security and access management solutions
can help mitigate the threat of ransomware

SAFENET TRUSTED ACCESS
Enable your
organization
to thrive.
Accelerate organizational growth, minimize risks,
and modernize your IT infrastructure with simple,
secure access to all your apps, from anywhere


Report 2021
Data Threat Report
Data Security in the Era of Accelerated
Cloud Transformation and Remote Work
Get the Report Now

White House Executive Order on Improving the Nation's Cybersecurity
Learn how Thales solutions for multi-factor authentication and encryption for data at rest and in motion can help Federal agencies meet the deadline

Thales Distinguished Speakers Series
Experts Share Their Insights to Help You Succeed
in Today's Cybersecurity Landscape

CipherTrust Data
Security Platform
Discover, protect and control sensitive data anywhere
with next-generation unified data protection.

Security Sessions Podcast
Bringing you insights from industry experts on
the latest cloud & data security news and trends.
We provide security for a world powered by
the cloud, data and software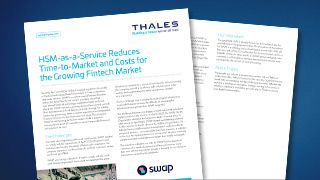 Brazilian fintech startup SWAP secures payment infrastructure with Thales
Resources and Useful Insights

See the Advantage of the Thales Accelerate Partner Network
500+
Technology Integrations