Law enforcement agencies around the world are adopting new technologies to improve response rates, streamline investigations, prevent crime, and improve collaboration. New technologies range from cameras and sensors providing real-time data and incident records to the adoption of cloud and big data to help manage high volumes of data, understand patterns, and help investigations.
But the digitalization comes at the same time recent cases of data breaches at law enforcement organizations have exposed records that jeopardize investigations and citizen privacy. Legislation and mandates at the federal, state, and local levels bring new complexities to compliance and raise the importance of following best practices to protect sensitive data.

How Thales Can Help Improve response and prevention
Accelerate transformation with a framework for a zero-trust world Reduce cost & complexity
Automate and streamline data protection across Hybrid IT Comply with regulations
Simplify compliance with centralized data security governance
Accelerate transformation and privacy compliance with data discovery, classification, and encryption
Accelerate transformation and time to compliance by centralizing data discovery, classification, and protection; key management; and unprecedented granular access controls – all on a single platform. Apply policy-based data-access security based on specific regulation requirements such GDPR, PCI-DSS, federal standards, such as fedRAMP and FIPS, and global standards, such as ISO 27001, and more.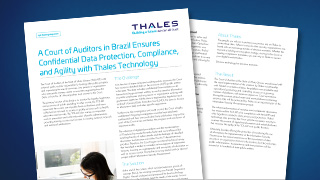 A Court of Auditors in Brazil Ensures Confidential Data Protection, Compliance, and Agility with Thales Technology
The Court of Auditors of the State of Mato Grosso (TCE-MT) is the external public auditor responsible for looking after public property and supervising the use of resources. Any person or organization who uses public money, assets or securities originating from the State or from the 141 Municipalities must answer to the Court.
Accelerate access to critical information with centralized secure access management and advanced authentication
Simplify user access to cloud services, streamline identity management, and eliminate password hassles for IT and users while providing a single pane view of access events across your app estate to ensure that the right user has access to the right application at the right level of trust.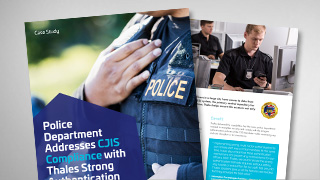 Police Department Addresses CJIS Compliance with Thales Strong Authentication
When out on patrol, it's imperative that police officers in a large city have access to data from the FBI's Criminal Justice Information Services (CJIS) system, the primary central repository for criminal justice information in the United States. Now, Thales helps ensure this access is not only fast and easy, but secure.
Protect sensitive data in motion on networks of IoT devices and ensure compliance
Protect data in motion with solutions that provide a single platform to encrypt everywhere, from network traffic between IoT devices and data centers to backup and disaster recovery sites, whether on premises or in the cloud.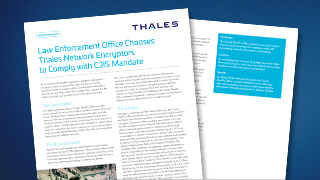 Law Enforcement Office Chooses Thales Network Encryptors to Comply with CJIS Mandate
A County Sheriff's Office needed to encrypt its critical data-in-transit, ensuring CJIS compliance while still maintaining network performance and simplicity. Thales helped ensure that their voice, video, and data communications are secure as they share sensitive information with authorized parties in different facilities.