How to prevent ransomware attacks
Ransomware attacks have become a top cybersecurity concern, with criminals targeting everything from critical infrastructure to hospitals and retailers, and demanding tens of millions of dollars in ransom. Unfortunately, ransomware is a complex cybersecurity problem with no silver bullet to address this menace. Thankfully the National Institute of Standards and Technology (NIST) released guidance on identifying and protecting assets against ransomware. The Cybersecurity Special Publication (SP) 1800-25 lays out the steps to having a comprehensive strategy around protecting assets.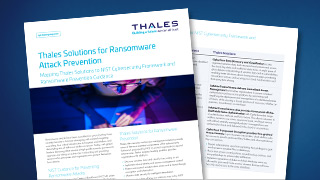 NIST Cybersecurity Framework and Ransomware Guidance
America's National Cybersecurity Center of Excellence (NCCoE) under the auspices of NIST recently released its ransomware guidance to protect assets against ransomware attacks. Discover how the Thales data security and access management solutions map to the NIST cybersecurity framework and ransomware guidance.
Safeguard data-at-rest from ransomware attacks with the CipherTrust Data Security Platform
The CipherTrust Platform provides comprehensive data security capabilities, including file-level encryption with access controls, application-layer encryption, database encryption, masking, vaultless tokenization with policy-based dynamic data masking and vaulted tokenization to support a wide range of data protection use cases.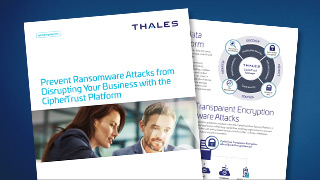 Prevent Ransomware Attacks from Disrupting Your Business with CipherTrust
El ransomware es un tipo de malware que los ciberdelincuentes utilizan para bloquear el acceso de empresas y personas a sus archivos corporativos críticos, bases de datos o sistemas informáticos completos, hasta que la víctima paga un rescate. Se trata de una forma de extorsión cibernética.
Cybersecurity Ventures estima que cada 11 segundos una empresa será víctima de un ataque de ransomware en 2021. En cuanto al coste estimado para las empresas a nivel mundial, calcula que ascenderá a 20 000 millones de dólares aproximadamente. Si bien los costes directos son atribuibles a las peticiones de rescate (en el caso de que la víctima decida pagar el rescate), los costes indirectos están relacionados con el tiempo de inactividad, la recuperación de los datos, la pérdida de ingresos, las mejoras en las defensas cibernéticas y los daños causados a la reputación de la empresa.
Implement strong authentication, access and identity management
Strong authentication, access and identity management are a key part of the guidance to prevent ransomware from the NIST and other organizations. Thales offers suite of identity and access management solutions include centralized cloud-based access management, Smart SSO, multi-factor authentication and much more to help control access, protect data, and prevent attacks.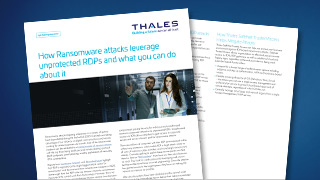 How Ransomware attacks leverage unprotected RDPs and what you can do about it
Ransomware attacks targeting enterprises in a variety of sectors have skyrocketed during the first half of 2020. Criminals are taking advantage of our reliance on digital communications and remote working for sinister purposes. As a result, most of the ransomware incidents can be attributed to a limited number of intrusion vectors, with the top three being badly secured remote desktop protocol (RDP) endpoints, email phishing, and the exploitation of zero-day VPN vulnerabilities.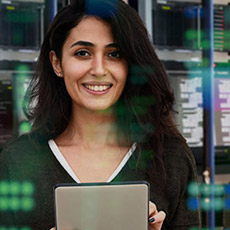 Identify and classify vulnerable sensitive data across hybrid IT
CipherTrust Data Discovery and Classification, part of the CipherTrust Data Security Platform locates regulated sensitive data, both structured and unstructured, across the cloud, big data, and traditional data stores.
Learn More About Sensitive Data Discovery and Classification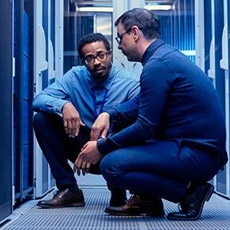 Protect data in transit with Thales High Speed Encryptors
Thales High Speed Encryptors offer the ideal certified and proven solution for data-in-motion security, including time-sensitive voice and video streams, for enterprise, and government organizations.
Preventing Ransomware Resources