Find and download your Sentinel drivers
Access our most requested drivers:
---
Sentinel drivers by category:
---
Maximize the potential of your software with licensing solutions that do more.
Use the relevant product links below to access the downloads you need. 
If you are interested in a Free Trial to boost your software licensing revenue, sign up, risk free:
Learn why Thales Sentinel is the leading global partner for software licensing, delivery, and protection, please visit our Software Monetization solutions. If you are looking for alternative products or need more information, please visit our support portal.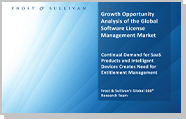 Growth Analysis of the Global Software License Management Market - Report
Growth opportunity analysis of the Global Software License Management Market shows continual demand for SaaS products which creates need for entitlement management.