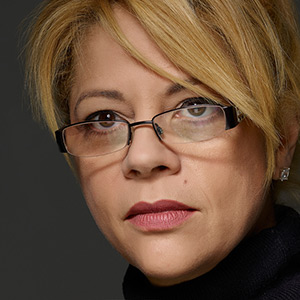 About Neira
Brought to you by Thales and hosted by Neira Jones
Business advisor on all things fintech, regtech, cybercrime, information security, regulations & digital innovation
This podcast series explores the technologies, people, and processes behind information security. We'll delve into topics like data security, remote access and digital transformation, as well as the people and technology that make it all work behind the scenes. We'll speak to Thales and industry experts to bring you fresh perspectives on how to navigate the world of cloud security.
About Neira Jones
Neira advises organisations of all sizes on payments, fintech, regtech, cybercrime, information security, regulations (e.g. PSD2, GDPR, AML) & digital innovation. With more than 20 years in financial services & technology, she believes in change through innovation & partnerships and always strives to demystify the hype surrounding current issues. She enjoys her work as a strategic board advisor and non-executive director. She also provides coaching, training/e-learning, speaking, payment security expert witness services, and helps with M&As cybersecurity due diligence. She likes engaging on social media & regularly addresses global audiences in person or virtually.
She is the 1st Advisory Committee member for PCI-Pal, a global leader in secure payments & chairs the Advisory Board for mobile innovator Ensygnia. She is proud to be an Ambassador for the Emerging Payments Association and a friend of the Global Cyber Alliance. You'll find her on the Refinitiv list of Top 100 Influencers in Financial Services, the Planet Compliance Top 50 RegTech Influencers, the SC Magazine list of the UK's 50 Most Influential Women in Cyber-Security 2019, the Cybersecurity Ventures Women Know Cyber 2019 (100 Fascinating Women Fighting Cybercrime), the Jax Finance Top 20 Social Influencers in Fintech 2017, the City AM Powerful Women in the City List, the Richtopia Top 100 Most Influential People in Fintech. Tripwire nominated her "Top Influencer in Security To Follow on Twitter" in January 2015, CEOWorld Magazine nominated her Top Chief Security Officer to Follow on Twitter in April 2014, she is the Merchant Payments Ecosystem Acquiring Personality of the Year 2013, the SC Magazine Information Security Person of the Year 2012 and is an InfoSecurity Europe Hall of Fame alumni. She was voted to the Top 10 Most Influential People in Information Security by SC Magazine & ISC2 in 2010 & has served on the PCI SSC Board of Advisors for 4 years. She is a British Computer Society Fellow.
Neira has previously worked for Barclaycard, Santander, Abbey National, Oracle Corp. and Unisys. Her clients span industry sectors, including financial services, fintech, retail, legal, consulting, information security & technology.
She loves technology and cars...
We invite you to subscribe to Security Sessions, a podcast bringing you insights from industry experts on the latest cloud & data security news and trends.
Listen to the Latest Podcast
Episode 8: 5G – With Great Power, Comes Great Responsibility
5G connectivity promises to break traditional paradigms of data delivery by providing network connectivity virtually everywhere. To accommodate this new paradigm in diverse data delivery, the building out of 5G infrastructures is underway. It is expected that in two years' time 5G will reach 25 billion connected devices globally and this number will triple to 75 Billion by 2025. For enterprises and subscribers, it will enable exciting new low latency, high performance and reliable connectivity that will create new business opportunities. For mobile network operators it will unlock significant new revenue-generating opportunities. 5G is poised to change how digital technology-based solutions are delivered and consumed across different industry verticals by connecting people and devices using high quality services whenever wherever. In this episode Neira is joined by Prashant Deo, Senior Information Security Consultant at Tata Consultancy Services and Chen Arbel, Vice President Business Development, 5G & Cloud Security and Thales. Learn more about 5G Network Connectivity Data Infrastructures.
---
Our Guest Speakers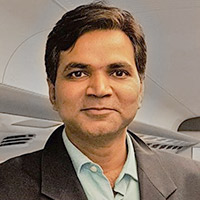 Prashant is currently Senior Information Security Consultant at Tata Consultancy Services, a global leader in IT services, consulting & business solutions with a large network of innovation & delivery centers. He has over 20 years experience in lead roles in Cyber Security Consulting and Cyber Defense Operations. Prashant is currently Service Delivery Lead for Security Solutions and Services at TCS, managing end to end project delivery for Infrastructure Security Solutions and Identity & Access Management Solutions, Security Operations Management and Management of Information Security for all client deliverables.

linkedin.com/in/prashant-deo-09a33a
---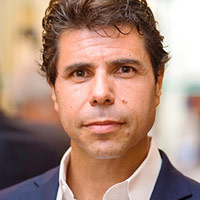 Chen Arbel, Vice President Business Development, 5G & Cloud Security at Thales Cloud Protection & Licensing

With over 20 years of information security, Chen has served in key development roles leading to uniquely powerful innovations that effectively align data security technology with real-life business objectives. Playing a leading role in the implementation of security solutions within some of the world's largest organizations, Chen has worked in all major industries on strategic initiatives that deliver clear business advantages through unmatched technology. Chen held a government classified technology position in North America and served as Captain for the Defense Force where he gained extensive information security experience.

www.linkedin.com/in/chenarbel
Listen to Previous Podcasts