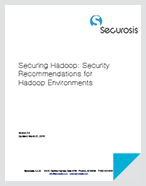 Securosis: Securing Hadoop: Security Recommendations For Hadoop Environments - White Paper
Did a small skunkworks big data project turn into a full-fledged deployment? Are your business groups now moving sensitive data into your Hadoop environment? Or worse, you're not sure if sensitive data may be entering your data lake? Are you finding that the result of your analytics is now valuable intellectual property that should be better protected? There are many questions on how to protect big data environments. Vormetric is pleased to make this excellent Securosis research paper available complimentary to anyone interested in securing or processing regulated data in Hadoop environments.
This research paper lays out a series of recommended security controls for Hadoop, along with the rationale for each. The analysis is based upon conversations with dozens of data scientists, developers, IT staff, project managers, and security folks from companies of all sizes; as well as decades of security experience the Securosis team brings. These recommendations reflect threats and regulatory requirements IT must address, along with a survey of available technologies which practitioners are successfully deploying to meet these challenges.
Complete the form to download the research report now.
If you have immediate questions, email us at sales@thalesesec.net or call us at +1-888-267-3732