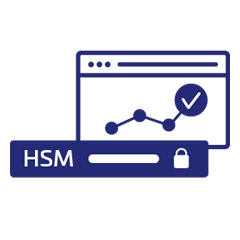 Get the Crypto Command Center Premium License to centralize and manage your crypto resources, on-premises, in the cloud, and in hybrid cloud environments.
Quickly and cost-effectively, provision and manage single or groups of Luna Network HSMs from one central location with Crypto Command Center. With a single platform to monitor and get alerts, administrators can plan capacity loads, troubleshoot issues and easily support application owners. Whether on-premises, in the cloud or hybrid, reduce costs and manage your HSMs from anywhere ensuring you can quickly spin up/down your crypto resources.
3 Reasons You'll Love Crypto Command Center
Flexibility – Easily manage and maintain your HSMs all in one location, even those in virtualized and cloud environments.
Scalability – Quickly set up High Availability (HA) HSM partition clusters or set up a test environment to see how you can re-allocate your partitions for better usage as you scale.
Convenience – Have a centralized view of all crypto resources from your remote device of choice. Significantly reduce the amount of time needed to be onsite with a faster set up of standard crypto operations.
*A crypto resource is a Luna Network HSM partition or a High Availability (HA) group that can be deployed and used for cryptographic applications.
Key benefits of Crypto Command Center Premium License include:
 
Efficiency:
Centralize the management of unlimited HSM resources
Set up HSM device pools to manage device pools by regions or environments
Automate processes thanks to templates that standardize deployment based on compliance requirements and deploy crypto resources with speed
Visibility:
Uniquely capable of monitoring Highly Available HSM partitions
Monitor crypto operations by partition to identify unusual activities and ensure consistency
Stay on top of device activity to ensure operational health and make capacity planning decisions
Set alerts to manage sensitivity and importance to eliminate false positives
Comprehensive reporting that enables centralized high availability and improved visibility
Plus with the Premium License, our customer support and service maintenance plans are included.
Sign up for the CCC Premium License to get these great benefits and more. Just fill out this form and get started today.