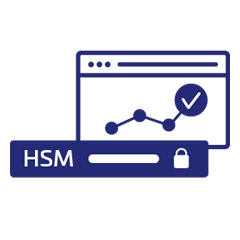 Centralize your crypto management resources and expand your IT capabilities on-premises, in the cloud, hybrid cloud or virtually
Historically, it has been a hindrance to move cryptographic infrastructures to these environments, as issues of control and auditability had not been solved to satisfaction. Thales Crypto Command Center changes that paradigm, and is the market's first solution to safely provision Thales Hardware Security Modules (HSMs).
Thales Crypto Command Center Premium Edition is a fully-loaded version that provides the following capabilities:
 
Provision an unlimited number of crypto resources
Manage an unlimited number of devices
Run Thales Crypto Command Center in a virtual environment
Manage HSMs in the cloud (integrated with AWS CloudHSM)
Internal or external database configuration
Suitable for both test and production environments
Customer support and service maintenance plan included
High Availability (HA) configurations
Flexibility through two procurement options: CapEx (perpetual license) and OpEx (annual subscription license)
Together Thales Luna Network HSMs and Thales Crypto Command Center combine to form a centralized crypto hypervisor for the management of your crypto HSM resources.

"CA Technologies relies on Thales's capabilities to deliver high assurance versions of Privileged Access Manager, the company's privileged identity management platform... Crypto Command Center has the potential to be a game-changer in the way we employ crypto resources. Privileged Access Manager protects very large hybrid-cloud enterprises and the ... Crypto Command Center design is right in line with Privileged Access Manager's architecture and our customer scalability, cost and security requirements."
Mordecai Rosen
Senior Vice President, Operations at CA Technologies