Sentinel Insights 2021
ROCKET FUEL FOR REVENUE
At Sentinel Insights 2021, the Thales flagship software monetization conference, industry-leading experts shared their insights on why and how innovative software licensing and packaging—the infrastructure behind the subscription economy—can be rocket fuel for your revenue. 
The virtual event provided hundreds of attendees with thought-provoking sessions and lots of practical tools for growing revenue in a digital age. For those of you who missed out or need a quick refresher, here's a summary of three of the keynote addresses on the topic of transitioning to subscription-based revenue. 

TRANSITIONING TO SUBSCRIPTIONS
Where Companies Fail and How to Avoid the Traps of Shifting to Subscriptions
Presented by Mark Thomason, IDC Research Director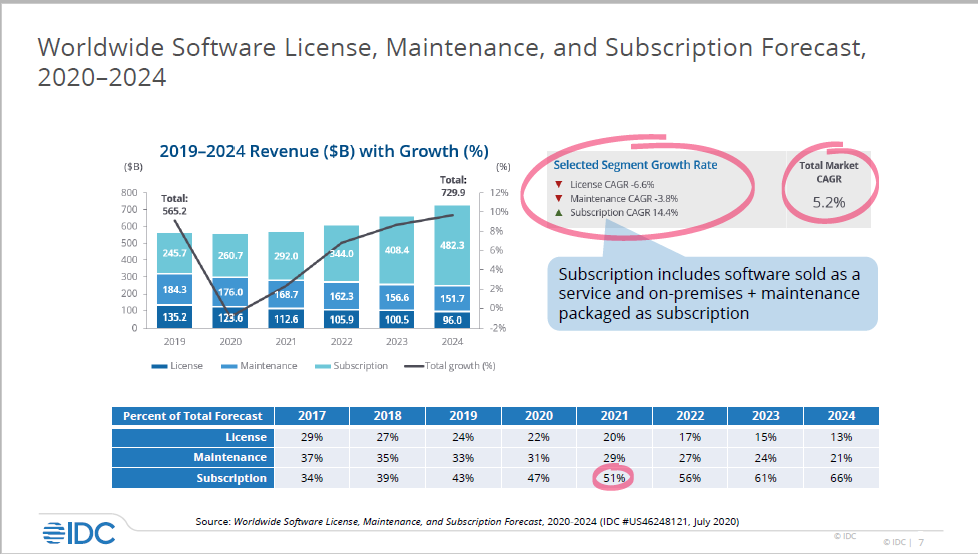 Which customers are happier: customers using a good product with great service, or customers using a great product, with good service? According to IDC Research Director Mark Thomason, the answer is clear. Customers are happier using a "good product with great service, rather than the other way around." Service is the essential aspect for successful software, particularly at this time. 
Subscription business models provide the ideal environment for cultivating excellent customer service.  Because the model requires you to interact with your customers regularly to discuss renewals, usage, and other metrics, you can become a trusted adviser who solves your customers' problems, not just another company trying to sell them a product. The subscription model also lets you optimize product utilization so that you can segment your offering and demonstrate the true value of your product. Similarly, subscriptions make it easy to bundle offerings and provide flexibility that can help you quickly scale as both your product and your customers' needs grow.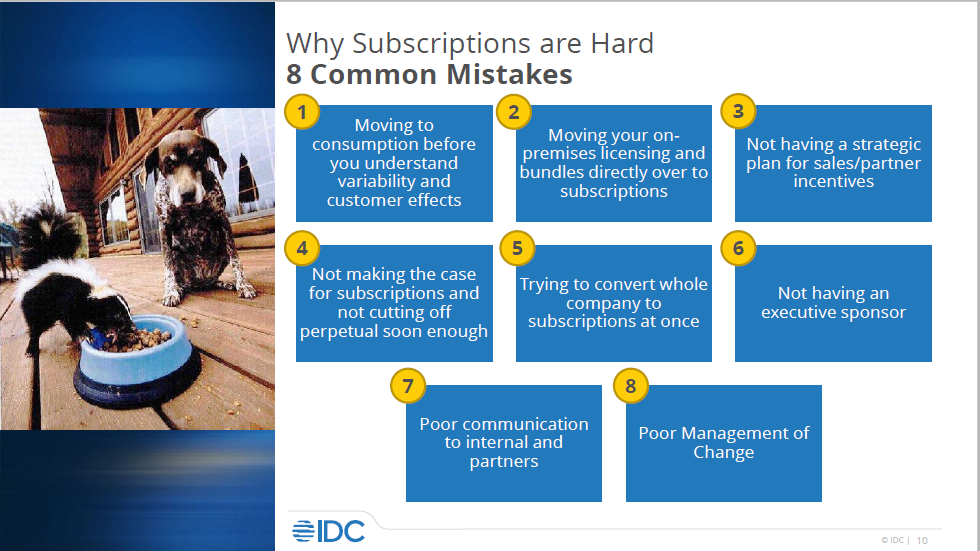 Images credit: IDC presentation, Where Companies Fail and How to Avoid the Traps of Shifting to Subscriptions June 2021
Upon making the strong case for adopting subscription business models, Mark succinctly addressed the common mistakes that he sees companies fall into when they make this shift. Equipped with is foresight, you can lead a smoother, more effective digital transformation.
 
Usership vs. Ownership  
Presented by Amy Konary, Zuora Global VP, Subscribed Strategy Group
Amy's key point is that we are seeing a massive consumer shift away from ownership and towards usership. In the past, consumers wanted to own products. You installed legacy software on your computers to power your businesses, you bought a timeshare villa to enjoy your vacation, and you had a DVD rack next to the TV, so your kids could easily watch their favorite movie. Those days are gone. You no longer want or need to own everything that you use which makes the DVD rack as outdated as a rotary phone.
This transformation from ownership to usership started in software but can be applied to almost every industry, from entertainment and retail to agriculture, energy, construction, trade, and transport. Customers now want to use a product when they need it, without paying to own it forever.
Industries across the board struggle to meet the expectation of usership. We have found that companies that manage this transition well, successfully rise, while those that don't are at risk of failure. In the subscription economy, how you sell is as essential as what you are selling. Value-based pricing, user-based pricing, and flexible packaging allow companies to meet the consumer demand for usership.
Over the past eight years, companies utilizing subscription models grew 437%, while the growth of the S&P 500 sales index was a comparatively low 132%. During Covid-19, when the economy was expected to take a tremendous hit, 80% of subscription businesses reported only a limited impact or even continued growth. For companies that want to succeed, subscription is moving from nice-to-have to must-have.

The Power of Recurring Revenue
presented by Stephan Liozu, Thales Chief Value Officer
Since E.J. McCarthy published the book, Basic Marketing, in 1960, four elements have guided organizational decision-making: product, price, place, and promotion.
Today, companies are seeing multiple forces of disruption, including price transparency, more affordable technology, data revolution, and the move to the cloud. These technology-driven disruptions are forcing old business models to change and new ones to be created. According to Stephan Liozu, Chief Value Officer at Thales, the presence of enormous disruptive factors requires a fundamental change from "The Four Ps" to a modern model that he calls S.A.V.E: solution, access, value, and education.
For instance, a hyper-focus on product and price leads to a commodification of your offering—the only distinguishing factor is price. With the S.A.V.E model, you frame your products around the solution they offer and value they provide. Instead of presenting your customers with one product, you create diverse offerings with numerous bundles that provide individualized solutions and value. Still, some customers will choose one-time transactions based on product and price. But more often, by using the S.A.V.E model, you lead your customers to think of your products as a set of solutions that provide business value.

The Journey to Recurring Revenue
Never have customer expectations, customer experience, and price been more important to your business than now. In the past, you could price your product at cost plus, sell it, and move on to the next customer. The current rapid shift to digitization is causing massive change. Today, successful organizations are responding to the new demands for usership and excellent customer service by providing solution-driven services instead of standardized products. The idea is easy, the implementation is more challenging.
Getting recurring revenue right can help you grow, acquire new customers, and outlast your competition, but it requires deep knowledge and experience in digital pricing best practices and application. Thales can be your partner to ensure that your digital transformation is successful by providing you with cutting-edge software licensing and pricing infrastructure. 
Ready to explore how your digital transformation can help your business thrive? Contact a software monetization expert today!
Executives who want to leverage their software or embedded software to become a tool for revenue growth 
Sentinel users – benchmark your progress and learn best practices from the experts and other users immersed in the monetization process
Thursday, June 3, 2021
North America
(English)
Wednesday, June 9, 2021
Europe, Middle East, Africa, S.Asia (English)
Thursday, June 10, 2021
Germany, Austria, Switzerland (German)
Visit the Register Today links above for each event's agenda schedule and speakers.
What you can expect
Learn directly from subject-matter experts
Discover how offering subscriptions can supercharge your business
Explore techniques to create effective recurring revenue packaging
Hear best practices for implementing flexible pricing models
Real-world case studies presented by Sentinel customers
A candid assessment of the business value of software monetization
Gain a keen understanding of how to keep customers for life
Preview the next frontier of software trends and future Sentinel solutions
Network with Sentinel users, executives from companies like yours who have been successful in transforming their operations
Participate in interactive conversations at our Genius Bar breaks
Get the most out of the conference
1. Register and Attend! Some sessions will only be available to those who have pre-registered. By attending the live event, you can ask your questions directly to the experts and take full advantage of the networking opportunities.
2. Bring your entire cross-functional digital transformation team. This is your opportunity to share an interactive experience that will help each member move forward in their specific discipline.
3. Bring questions. Or better yet, send them in advance and we will be ready to answer them live. Do you want to hear about successful license models for medical devices? Or maybe how to leverage product packaging for revenue growth? Perhaps you're looking for the best tips on moving to recurring revenue?