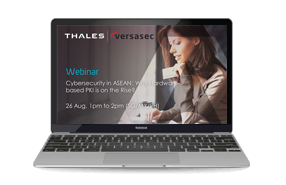 Cybersecurity in ASEAN: Why Hardware-based PKI is on the Rise - Webinar
In this webinar, Thales hosts its technology partner, Versasec, a leader in identity and access management that provided customers with a secure solution for managing digital identities. With its flagship product, vSEC:CMS S - Series, Versasec eases the deployment of physical and virtual smart cards for enterprises of any size.
Participants in the webinar will learn about PKI trends in ASEAN, why hardware-based PKI is the one of strongest and most effective cybersecurity solutions and how it enables a Zero Trust ecosystem.
During the talk, experts from both Thales and Versasec will address customer challenges, discuss real-life use cases, and will explore the advantages of multifactor authentication.
Key Discussion Points:
What are the business customer requirements, and why should enterprises use strong authentication?
Why hardware-based PKI and what are its benefits for enterprises?
The advantages of hardware-based PKI versus other two-factor authentication solutions.
Use cases from ASEAN that focus on SAM migration and work-from-home situations.
Watch the Webinar