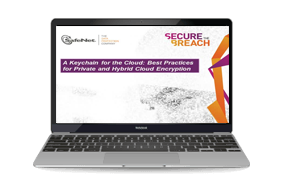 A Keychain for the Cloud: Best Practices for Private and Hybrid Cloud Encryption- Webinar
As organizations move to virtualize their environments they must rethink how the secure their data. Encryption will play a key role in protection of data as perimeter defences become less relevant and traditional security mechanisms struggle to keep threats at bay.

Join your fellow professionals for a best practice session, to first learn the detail on how encryption is expanding as organizations or all shapes and sizes, and from a wide range of industries, migrate to virtual environments. Then discuss several key management best practices to complete "the keychain" for organizations considering a move to the cloud. Finally we look at specific use cases to demonstrate the use of these best practices for encryption and key management in the enterprise.
Watch On Demand