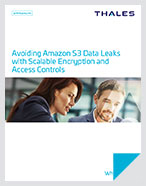 Avoiding Amazon S3 Data Leaks with Scalable Encryption and Access Controls - White Paper
Cloud computing is transforming the way enterprises, government agencies, and small businesses manage their company data. Amazon Simple Storage Service (S3), one of the leading cloud storage solutions, is used by companies all over the world to power their IT operations for a variety of use cases, however, they place responsibility for security in the hands of its customers.
With advanced protection for S3 with CipherTrust Transparent Encryption, organizations can apply transparent encryption and access controls to sensitive data in S3 buckets. The solution encrypts unstructured files, semi-structured data, or structured databases before it is written to S3 buckets.
Get the white paper to learn how you can secure sensitive data and apply encryption and access control to Amazon S3.