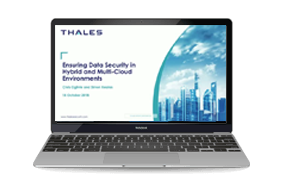 Ensuring Data Security in Hybrid and Multi-Cloud Environments-Webinar
Chris Ogilvie interviews Simon Keates, Thales Business Development Manager, EMEA on "cloud" - the biggest growth area of technology investment this year.

Companies are increasingly reliant upon multi-cloud or hybrid cloud to meet specific workload and needs. However, these multi-faceted environments come with advanced threats in the form of security gaps which exploits individuals and organisations. In addition, embracing cloud environments brings challenges around data control, complex security policies and compliance reporting.

Join Chris and Simon for the second in our series of "coffee break" webcasts when they will discuss:

a) How can enterprises reduce security gaps in the cloud without affecting their business efficiency?
b) How are organisations maintaining effective security whilst adopting new digital technologies to improve agility, customer engagement and support business growth?
c) How does BYOE (Bring Your Own Encryption) alleviate the core issues of security, control and compliance and can it be applied to the common public cloud environments cost-effectively?
d) How can enterprises regain control of their data security?
Watch On Demand