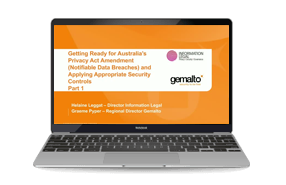 Getting Ready for Australia's Privacy Act Amendment - Webinar
The Gemalto's Breach Level Index reported 1.4 billion data records compromised worldwide in 2016, up 86% from 2015. Closer to home, there were 44 & 16 voluntarily reported breaches in Australia and New Zealand respectively. With the new Privacy Amendment (Notifiable Data Breaches) Act 2017 in Australia, these numbers are expected to increase dramatically as organisations are required to declare any "eligible data breaches".
Navigating these regulations such as the Australian Privacy Act and European General Data Protection Regulation (GDPR) and the impact they will have can be daunting. Organisations must start planning ahead to mitigate the potential risks of being non-compliant. The implications of a data breach can go beyond compliance. In 2014, the Target breach had a massive impact on the company's brand reputation, while last year's announcement of the Yahoo! data breach cost the company nearly $1.7 billion in stock market value.
During this webinar, Helaine Leggat, an legal expert in data protection regulations will discuss the Australian Privacy Act Amendment in detail, what it means for businesses in Australia and internationally. Graeme Pyper, Regional Director at Gemalto will provide recommendations to help prepare for the 2018 deadline. We will share industry best practices and methodologies companies can evaluate to simplify a government audit process. Join our experts to ask questions and learn more about:
The local and global government data privacy regulations (Australia and Europe)
Gauging the true cost of a data breach and how to reduce the scope of risk
Understanding privacy by design throughout business
Strategies for simplifying operations for regulation and internal audits
Determining current industry compliance, which may be applicable to the APA and GDPR
Watch On Demand