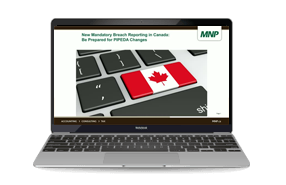 New Mandatory Breach Reporting in Canada - Webinar
We live in an environment of ever-increasing cybersecurity risks. As new mandatory breach reporting regulations come into effect on November 1, 2018 – the stakes will soon be even higher.
Canadian organizations must also be prepared to communicate with federal regulators and all affected parties the details of any cyber attack that could potentially lead to "real risk of significant harm." – or experience costly financial, legal and reputational damages well-above the loss of data and proprietary information.
During this insightful webinar, MNP, Miller Thomson LLP and Thales will provide all the information you need to understand the new rules, ready your organization and better protect yourself from the growing criminal and regulatory threats all around you.
Watch On Demand