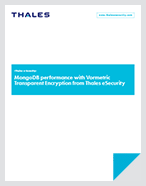 Performance Whitepaper – MongoDB 3.2 & Vormetric Transparent Encryption - White Paper

In enterprises around the world, data volumes have been undergoing explosive growth. As a result, "big data"-the aggregation and analysis of massive volumes of information-has become increasingly common.
To be effective in delivering maximum value and agility, it is critical that big data applications leverage not only structured relational data but a range of other data sources as well. It is for these reasons that market adoption of MongoDB has started to gain significant momentum.
It is vital that organizations secure the vast amount of data now being stored in MongoDB repositories. These databases need to be secured to guard against data breaches and to ensure compliance with regulations. With Vormetric Transparent Encryption, enterprise customers can encrypt data that is stored and processed by MongoDB systems, while using centralized key management and access control capabilities.
Give us a few pieces of information and we'll give you the stats. Download the benchmark performance results of the Vormetric Data Security Platform & MongoDB configuration.