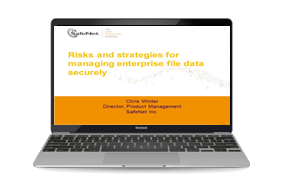 Risks and Strategies: Managing Enterprise File Data Securely-Webinar
Every enterprise has secret, compliance-related, or otherwise confidential data contained in the data center.

The management and control of these files especially in a distributed and mobile world is fraught with hidden dangers and risks. Encryption alone cannot solve all of these problems.

So join Chris Winter and fellow data center professionals for this insightful discussion on the issues involved, and discover the preventative actions and technologies needed to manage your enterprise file data securely.
Watch On Demand