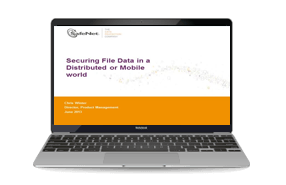 Storage Implications for Storing File Data Securely in a Distributed World- Webinar
When an organization has a distributed or mobile workforce or requires executives or key personnel to work from home, the issue of securing the business critical data becomes especially problematic. In most cases today, responsibility for the security of the file data is the left up to the individual end user. Theft or even the borrowing of the mobile device leaves critical file data exposed.

The rapid growth of BYOD (Bring Your Own Device) brings cost savings and efficiency for organizations but also a greater risk of security breaches. Today, no control or reporting of use of critical data on mobile devices is possible and this creates regulatory problems.

Join your fellow professionals to understand the storage implications for storing file data in a distributed world and best practices on file data security.
Watch On Demand