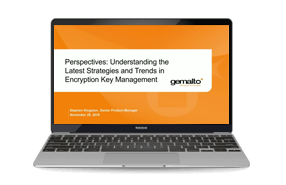 Understanding the Latest Strategies and Trends in Encryption Key Management - Webinar
Security and risk management professionals face ever-increasing needs to encrypt various types of sensitive data stored on-premises, in private and public clouds and in hybrid environments in order to protect their organizations in the event of a data breach. Compliance mandates, internal security audits, data residency issues and threats of hackers are driving the requirements for enterprises to develop a centralized enterprise-wide encryption strategy to prioritize sensitive data protection. In addition, regulations, such as the EU General Data Protection Regulation (GDPR), have dramatically increased pressure on security professional leaders to review and revamp their approach to encryption key management.
To meet these needs, security professionals are using a growing number of encryption tools to protect data within a variety of data storage environments. These may be located within local and external IT environments and systems, such as file stores, databases, big data platforms or various clouds. However, encrypting data in each of these environment results in the creation of islands of encryption and diverse key management platforms which increases complexity, costs and risk of data loss.
In this webinar, you will:
Gain insight into trends that are driving the digital cloud transformation and how key management plays a role
Understand the importance of developing a centralized approach to encryption key management
Examine where and when you should encrypt your organization's data and typical key management use cases
Learn how to implement an enterprise-wide key management operational model that can reduce cost of ownership and minimize overall risks
Watch On Demand