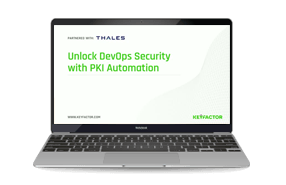 Unlocking DevOps Security with PKI Automation - Webinar
Today, DevOps teams are focused on getting new features out faster, yet they need digital certificates for critical tasks in the build and release process - things like signing code, spinning up containers, and using SSL/TLS certificates for load balancers and web servers.
Maintaining an optimized development and release cycle requires frictionless, automatic PKI processes to provide timely, valid certificates while maintaining the visibility and control security teams need to ensure compliance and prevent delays.
How do you unlock DevOps security with PKI Automation?
Join Keyfactor and Thales to discuss how enterprises can automate and securely integrate PKI into continuous integration and continuous deployment (CI/CD) pipeline and the DevOps toolchain – including Jenkins, Kubernetes, and HashiCorp Vault.
Watch On Demand