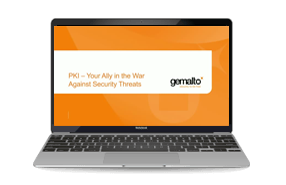 PKI - Your Ally in the War Against Security Threats - Webinar
PKI used to be difficult to implement, and was seen as complex, labor intensive and expensive. The development of powerful credential management software has brought considerable improvements. It now does much of the manual work that used to be left up to the administrators saving them valuable time in the war against security threats. In our last webinar, we found almost 50% of those you voted cited the Internet of Things as the main driver for PKI. More connected devices and users will create a need for higher levels of security in all organizations as the number of possible threats and attacks increase.
For security professionals, implementing and modernizing their PKI systems will be crucial, keeping in mind not all PKI implementations are created equal. Some are inherently more complex, depending on the level and layers of security needed for within your organization. Following our previous PKI foundational webinar, this one will cover the elements you need to consider when designing a PKI environment.
Join us for the "PKI – Your Ally in the War Against Security Threats" to learn how you can maximize your organization's security and the things you need to know to get started including:
PKI use cases in an enterprise environment to secure access and protect data
Budgeting for your PKI deployment of modernization
Outlining the deployment size, scope and timeline
Analyzing and reviewing current and/or future security policies
Maintenance and administration of the PKI system
Configuring and understanding certificate authorities
Developing a scalable approach to prepare for future needs
Addressing the protection of sensitive keys and the ecosystem integration
Watch On Demand