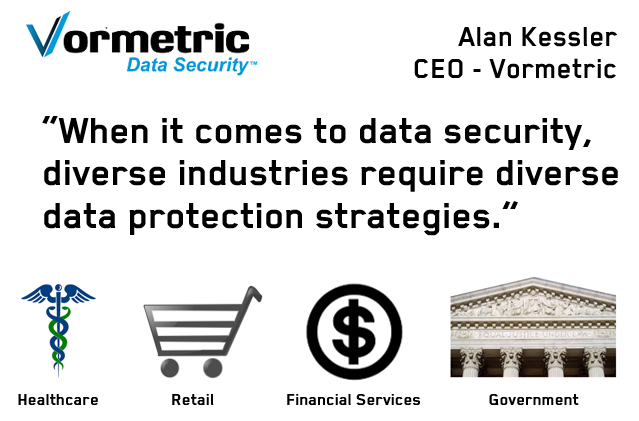 It seems like every time I write a blog, a new breach has occurred (for an up-to-date look at local, state and federal breaches I suggest you periodically review the Identity Theft Resource Center's running list). Since I last penned a post, we've seen breaches of the Mayo Clinic, Citizen's Bank, CVS and Arkansas BlueCross/BlueShield. To the average person, most breaches probably bleed together. If you've seen one breach, you've seen them all, right? If we're going off of that logic, then one might assume all industries can take the same data security approach.
ClickToTweet: Getting Data Security Right @kessalan #DefenderOfData http://bit.ly/1KMLOUA  pic.twitter.com/m9JIQVjqh2
I'm here to tell you this line of thinking is very short-sighted. When it comes to data security, diverse industries require diverse data protection strategies. There are a myriad of reasons for this, such as differing compliance standards/regulations and varying attitudes about what does and doesn't constitute sensitive data.
To help you wrap your head around vertical vulnerabilities, I've broken down data security realities and recommendations for four industries: healthcare, retail, financial services and government. We'll start with healthcare.
Healthcare Data Security: It's More Than HIPPA
Healthcare data has become highly desirable to bad actors, and much more valuable than credit card information, with healthcare records selling for tens to hundreds of dollars. It's not surprising then, that according to our 2015 Insider Threat Report (ITR) 92 percent of healthcare IT decision makers reported their organizations are either somewhat or more vulnerable to insider threats, and 49 percent felt very or extremely vulnerable.
In the past, healthcare data security was most closely associated with the HIPAA compliance standard. But as we've said time and time again, compliance is only a baseline standard. My colleague Derek Tumulak is spot-on with his latest assertion: If an organization is HIPAA-compliant, this means that they are only meeting bare necessities.
Therefore, we're heartened that our ITR healthcare respondents reported compliance is their second priority for IT security spending at 39 percent, behind preventing a data breach at 53 percent. The importance of data breach prevention increased 2.5x from 21 percent just two years ago, a substantial change in attitudes (when compared against results reported for all respondents in the 2013 Vormetric Insider Threat Report).
With data security mindsets seemingly on the right track, here are some of our key recommendations for protecting healthcare data:
Implement controls and policies required to put security of data first. This includes file and volume level data-at-rest encryption, secure key management and access controls
Data access monitoring information also provides another level of protection from malicious insiders, privileged users and attacks that compromise accounts. Having insights into unusual activities and patterns will better allow IT security teams to thwart an in-progress attack

For a real-world example of a healthcare company successfully protecting its highly sensitive data, we suggest you check out our case study with Delta Dental of Missouri
Retail Data Security: The Target Effect
We've exhaustively discussed the Target breach on our blog, largely because it's one of the most notable breaches of all time. Suffice it to say, the ramifications of this breach were enormous. We like to think it led most major retailers to re-think their data security approach, but our 2015 retail ITR results doesn't paint as rosy of a picture. For example, over 51% of retail respondents reported being very or extremely vulnerable to insider threats – the highest rates measured in the study. And yet, these organizations continue to invest at similar rates in both the network and end point security technologies that consistently fail under today's attacks.
However, not all is dour. According to the report, 63% of U.S. retail respondents cited preventing a data breach incident as the number one IT security spending priority. We're very glad to see that meeting compliance standards – such as the PCI DSS regulation – was not the primary driver (remember, that whole "baseline standard" thing).
In the interest of seeing a lower number of U.S. retail respondents experiencing a data breach or failing a compliance audit next year (this year that number sat at 48%) we also recommend retailers utilize file and volume level data-at-rest encryption, secure key management and access controls. Recognizing retailers tend to store data in public, private, hybrid clouds and traditional infrastructures, we also counsel identifying a solution that allows for central management of the entire data security platform. Don't immediately assume your organization is too big for just one solution. Here at Vormetric, we're helping a major retail bank protect 10,000 servers and a major retailer protect over 15,000 servers.
Financial Data Security:
The lifeblood of a banking or financial services firm is data. Therefore, it is imperative financial organizations take a holistic, comprehensive and smart approach to data security. Overseeing the IT security of a financial organization is a huge task, as it involves accounting for the following variables:
Safeguarding critical financial data with maximum return and minimum risk
Adjusting security postures as external attacks on financial infrastructure and online properties increase and change.
Meeting the need to protect from the traditional concerns with insiders and privileged users, while also dealing with the additional hazards that compromise of these accounts may bring
According to our 2015 ITR, a whopping 97% of U.S. financial services respondents report being somewhat or more vulnerable to insider threats. Beyond demonstrating financial services face a stressful threat landscape, this statistic should tell us that (wait for it…) compliance standards aren't proving effective enough in stopping attacks. This is unfortunate, since there are a number of them (to start, see GLBA, SOX/J-SOX, NCUA, data privacy and data residency laws, and even the USA Patriot Act).
What then, is a smart financial services firm left to do? Here are some of our suggestions based on years of working with Fortune 30 companies and major financial organizations:
Deploy a layered defense that combines traditional IT security solutions with advanced data protection techniques
Prioritize the protection of data at the source. For most organizations, this involves protecting a mix of on premise databases and servers, newer big data implementations and remote cloud resources
Leverage a range of data-centric security techniques that protect where the data is stored, and that can move with the data. This includes data encryption, tokenization, data masking and other techniques
Implement integrated data monitoring and technologies such as security information and event management (SIEM) systems
Government: Sprinting Towards Victory or Defeat?
You really need look no further than the OPM breach to draw the conclusion that when it comes to data security, the federal government has seen better days. Think of OPM as the government's "Target," if you will.
Needless to say, present and future federal government officials are under and will continue to be under pressure to demonstrate they have a handle on cybersecurity. According to our recent Pulse Survey,92% of Americans want actions to result from nation-state cyberattacks. This attitude is understandable; after all, government data offers much more than just financial gain. Two paramount drivers include stealing government secrets and stealing critical intellectual property – pretty frightening stuff.
By even the most casual observer's estimation, the federal government has a lot of work to do in order to prevent against OPM Part Two. The best illustration of this may be found in the Cybersecurity Sprint results, which were released late Friday afternoon.
My colleague Andy Kicklighter did an excellent job breaking down the Sprint requirements and the projected versus expected timeline of implementation, so I strongly encourage you take the time to read his blog. I'll also use this time to recap some of his key recommendations – beyond the existing key principles outlined in the Sprint – for federal data security:
Develop and execute a detailed discovery process that identifies sensitive data
Lock down data access at both the system level (OS and file systems) and from within applications, leveraging encryption and access controls
I also suggest you review our joint white paper with the Government Business Council. In this paper, we further expand on best practices, such as a) encrypting data at the kernel level b) deploying granular access controls and c) increasing data access visibility.
For too long, much of our IT establishment has spent their careers defending network boundaries and end points from intrusion. Now, not only are these perimeters penetrable, but they are also dissolving as government and industry adopt cloud and SaaS solutions. A cybersecurity shift is imperative if we want to prevent attackers from gaining access to government networks and stopping insider attacks like those initiated by Edward Snowden.
Conclusion
Hopefully, these overviews serve as a helpful starting point for better understanding vertical data security needs. After all, now – not in three months, not in six months, not in five years – is the time to make a change. Similar to life, the threat landscape isn't going to get any easier to deal with anytime soon (or, ever). Look at what you're doing now, then do it even better.