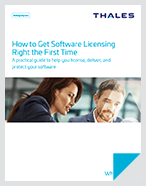 Navigate The Process of Licensing, Delivering, and Protecting Your Software
How to Get Software Licensing Right The First Time - White Paper
Check out our practical guide to navigating the process of licensing, delivering, and protecting your software. Discover the importance of optimizing your software licensing. Avoid common mistakes with the expertise you need to get it right the first time.
Optimizing your software licensing can allow you to create new and innovate revenue streams and give your customers a better experience, all while increasing your operational efficiency and generating insights into how your customers are using your product
Download the report to learn:
What is a common mistake companies make when it comes to software licensing?
What is the software licensing project lifecycle?
How to future-proof your business with software licensing?