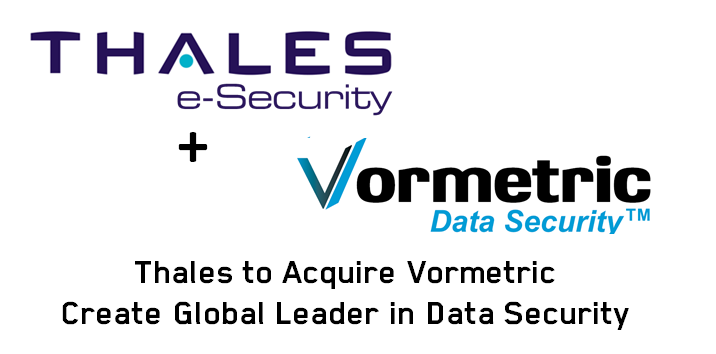 We had big news to share this week. Thales announced that it plans to acquire Vormetric for $400 million. The combination of Thales and Vormetric creates a global leader in data protection bringing to our customers and partners industry-leading security solutions for protecting enterprises and governments against cybersecurity threats by securing the most critical data in the most critical places.
ClickToTweet: Creating a Global Data Security Leader - @Thalesgroup to acquire @Vormetric http://bit.ly/1XmBrKr pic.twitter.com/8ignc3lSIx
Vormetric will be joining Thales eSecurity, a member of the Thales Group, and I'm honored to add that I have been named to lead Thales eSecurity after acquisition is completed. Acquisition is planned to complete in the first quarter of 2016. Thales eSecurity is a leading global provider of trusted cryptographic solutions with a 40-year track record of protecting the world's most sensitive applications and information and over 500 employees. Their solutions enhance privacy, trusted identities, and secure payments with certified, high performance encryption and digital signature technology for customers in a wide range of markets including financial services, high technology, manufacturing, and government.
I strongly believe that the combined solution sets, sales organizations and product capabilities will have a positive impact on our customers and partners. The proliferation of data breaches as well as the growing demands for compliance and data privacy have increased the need to protect data – whether it's data at rest, data in motion or data in use. As Cindy Provin, President of Thales eSecurity said in her blog post earlier this week - "The proliferation of data breaches and the growing demands for data privacy compliance has increased the need to protect data – whether it be data at rest, data in motion or data in use."
With the cybersecurity market expected to grow to $170 billion by 2020 there is also a high demand for comprehensive information security solutions that protect data across the whole lifecycle of its usage, and our combined organizations and solutions will do just that.
Thales' reach and strength in global markets, combined with Vormetric's existing sales capabilities will also help to drive growth.
At the same time, Vormetric's mission and strategy will continue to be to provide customers and partners significant value through our comprehensive and unified platform of data security solutions. This platform will now be enhanced by Thales' position as the hardware security modules, crypto and key management market leader. With decades of experience in safeguarding sensitive information for their customers, Thales products and services improve the security of applications that rely on encryption and digital signatures.
The acquisition should also be a real positive for Vormetric's employees. There are no plans for a reduction in force, and with a year over year combined growth rate of 30% in the new organization, we also expect that this acquisition will provide great opportunities for all. Retaining our very talented and dedicated employees is a top priority.
We will also continue to invest in the strong ecosystem of Channel, Cloud and Technology Partners that has been a core element of our success. These partners will find continuing to work with Vormetric as a Thales eSecurity Company even more to their advantage as we enhance and integrate our solution sets and programs.
Now more than ever, it's critical to leverage data-centric security techniques that protect where data is stored, and provide protection that moves with data. Together, we will help organizations reduce risk, demonstrate compliance, enhance agility and pursue strategic goals with greater confidence.