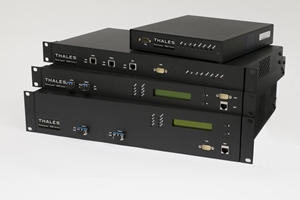 Shakespeare's Hamlet posed the question "To be, or not to be…" in order to verbalize the struggle between two potential courses of action, each of which would have long-lasting impact. Today, IT professionals must struggle with the dilemmas posed by securing data in motion. In one course of action, a low-cost security solution can satisfy the lowest common denominator known to security… the stamp of certification. Banking on the 'feel good' that stamps of approval bring, these low-cost security solutions come with a heavy price tag in terms of potentially poor performance and lost bandwidth.
The interdependencies of data types, security and performance
Performance and bandwidth utilization, as it relates to security, often fluctuates from solution to solution and almost always fluctuates with diverse data types. Securing small VoIP packets at 10Gbps can bring some security solutions to a grinding halt. Likewise, large jumbo frames have similar latency affects due to the size and processing power required to encrypt, decrypt, and process frames. If these security solutions are handling multiple VLANs (encrypted and/or non-encrypted), even the unsecured VLANs could be affected by the processing loads posed by the secure VLAN.
Encryption is only one of many factors affecting performance
Standalone encryption devices like the Datacryptor 5000 Series for example, most often use hardware encryption methods which can process the encryption and decryption functions at near instantaneous speeds, regardless of the packet size and speed of the network. Even with these types of data in motion security solutions, small packets cause an inherent problem related to the data structure. Small packets each require frame spacing and overhead, especially if you are concerned about data integrity (which you should be). The nature of the packet size, security, and network requirements cause an inefficient use of bandwidth even though encryption itself is done almost instantaneously. Clever features, like those found in the Thales Datacryptor 5000 Series, can optimize the natural constraints of network and security requirements and achieve up to 98% network efficiency while providing the highest levels of commercial security. No longer is there a need to compromise total data in motion security for performance, or performance for total data in motion security. With data in motion security solutions like the Datacryptor 5000 Series, security and performance finally converge.