It's been an exciting week – today Thales eSecurity completed its acquisition of Vormetric.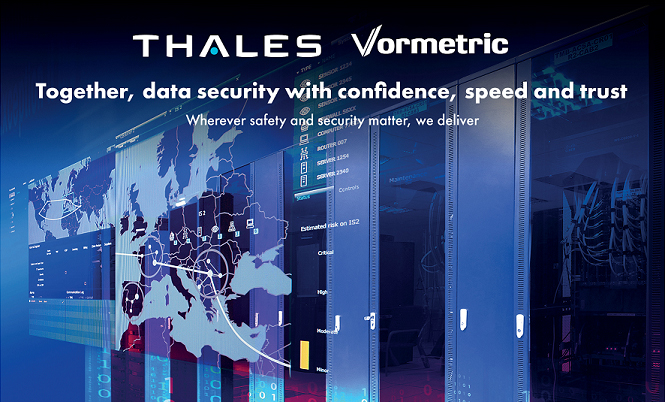 As we shared last October, the combination of Thales and Vormetric is going to be powerful. Our mission statement, quite simply, is to be the undisputed leader in data protection and digital trust management everywhere data resides. It's no easy feat, but we're up to the challenge.
According to MarketsandMarkets, the cybersecurity market will hit $170B by 2020, with North America expected to be the largest growth market. The proliferation of data breaches as well as the growing demand for compliance and data privacy have increased the need to protect data.
My first charter at the helm of Thales eSecurity is to work with both the Thales eSecurity and Vormetric management teams to demonstrate the advantage of our combined strength to our customers, partners and organizations. This acquisition means that we'll be providing an even more comprehensive end-to-end security solution through one unified data security platform. Together, we will help organizations build trust by reducing risk, demonstrate compliance, enhance agility and pursue strategic goals with greater confidence.
A Unified Platform: Better, Faster, Stronger
The new Thales eSecurity platform will secure and obfuscate data in more environments, in more ways, providing the most comprehensive automated key management throughout the data lifecycle. With the most secure techniques – including FIPS level 1, 2 and 3, PCI, HSM and DPA – this platform will deliver market-leading non-disruptive, easy-to-deploy and manage security at the lowest life cycle cost.
Both Vormetric and Thales eSecurity have a heritage of supporting the world's leading cloud companies. Through our unified data security platform we plan to further accelerate our cloud security offerings and strategy by securing even more cloud data: on premise (private cloud), in the public cloud (IaaS, SaaS, PaaS), at the database, container file, structured and unstructured, whether at rest or in motion.
Further adoption of the cloud and big data is driving the need for data residency and new models of trust between the holder of the data, the viewer of the data, and the legal owners of the data. As my colleague Peter Galvin, vice president of strategy at Thales eSecurity, recently cited, "We're seeing a rapid rise in sensitive or confidential data being transferred to the cloud and yet only a third of respondents had an overall, consistently applied encryption strategy. Encryption is now a widely accepted best-practice for protecting data, and a good encryption strategy depends on well-implemented encryption and proper key management."
Broadening Our Product Roadmap to Better Protect Our Customers
Another one of my goals for our team is to enhance our product roadmap, increasing the value we bring to our customers. One such opportunity is in the growing IoT market. Fundamentally, IoT and connected devices need to be secure. Our strategy is to deliver trust management by protecting data everywhere. For example, the software in a self-driving car can be downloaded remotely. In order to ensure that the user is safe, there must be a trusted and secure connection to the car's systems. As a result of this acquisition, Thales eSecurity can now deliver on that, and many other promises.
I look forward to leading the new collective Thales eSecurity team and our partners as we begin the journey to create the undisputed leader in data security and trust management. Keep an eye on us…I suspect big things ahead.