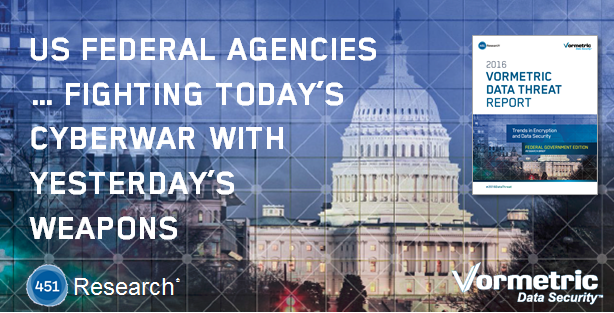 As stewards of critical federal information, government leaders must turn their attention towards protecting that highly sought after target – data.
Cyberattacks and data breaches at the federal level have compromised mission-critical information and assets, such as state secrets, military and intelligence information, as well as critical infrastructure. Take, for example, the recent Ukrainian power grid hack, which caused a blackout for hundreds of thousands of Ukrainians back in December of 2015. This cyberattack serves as a stark reminder that cybercrime is advancing and today there's far more at risk than just your personal email address and password.
ClickToTweet: Federal Agencies: Fighting Today's Cyber War with Yesterday's Weapons @socialtis bit.ly/1XO9w5a pic.twitter.com/xubkhqdUjN
With all that's at stake, there's no time to linger in modernizing IT systems. Don't understand the urgency of this task? Need only look as far as the recent flurry of federal data breaches – including, but certainly not limited to, the Internal Revenue Service (IRS), Department of Energy (DOE) and Veteran's Affairs.
Thankfully, this steady drumbeat of federal breaches has not fallen on deaf ears. In fact, President Obama recently proposed a budget increase of 35% for cybersecurity spending in the overall FY2017 budget as well as unveiling a new Cybersecurity National Action Plan (CNAP) in February. And while these announcements are indeed a step in the right direction, there is still significant work to be done.
To gain a better understanding of the threats facing federal agencies, today we released the U.S. federal government edition of the 2016 Vormetric Data Threat Report. According to the report, a whopping 90% of respondents reported feeling vulnerable to data threats. (Think back to all that critical infrastructure that's at risk. Not exactly reassuring now, is it?)
The report also revealed that federal agencies don't just feel vulnerable to threats – the reality is that 61% of respondents have already experienced a data breach, with nearly 1 in 5 indicating they experienced a breach in the last year alone.
With a clear need for increased data security, what are federal IT security professionals doing to address this growing concern? A number of positive results from respondents indicate that U.S. federal agencies are taking steps in the right direction:
58% are increasing spending to protect sensitive data.
37% of U.S. federal respondents plan to invest in data-at-rest defenses this year.
48% are looking to implement data security to follow industry best practices.
A number of federal IT security professionals are also planning to implement 'newer' security tools that are more effective at protecting data even when other defenses have been compromised. These include cloud security gateways (40%), application encryption (34%), data masking (31%) and tokenization (27%).
Sticking with the data security status quo won't help organizations achieve an improved security posture, and the sooner public sector agencies realize this, the better. By implementing strong data-at-rest security controls, federal IT security professionals can protect critical information even when peripheral security fails.
Is your organization bringing a knife to a cyberfight? To learn more about how Vormetric can help you protect your sensitive data, feel free to leave a comment below or tweet me @SocialTIS.