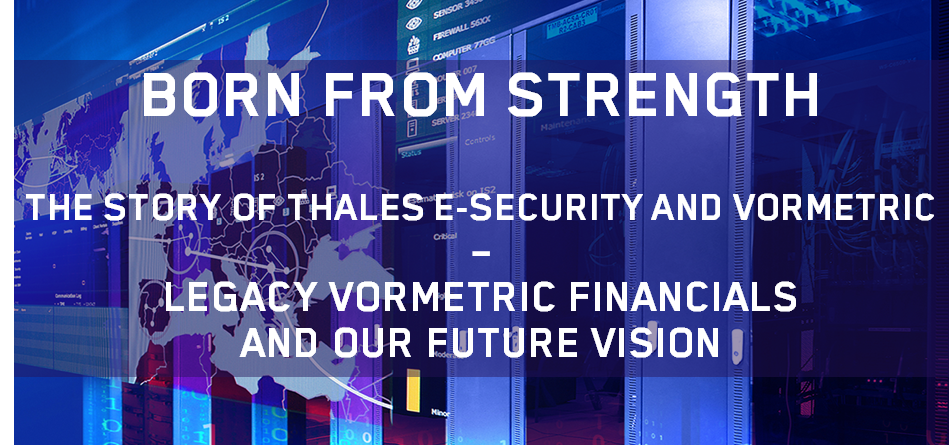 The combination of Vormetric and Thales (TeS) is born out of strength. In a world where we see pundits saying the "Unicorn" is turning into a "Unicorpse", and VC funding is on the decline, one takeaway remains clear: companies who stay focused on their customers and build real businesses with strong, credible business models are the ones who will win.
That is the story of Vormetric and TeS.
Before I crack open the book and give you a glimpse into how we foresee our story unfolding, I first want to detail just how far legacy Vormetric has come – and where we were prior to the company's official acquisition on March 17, 2016.
Click to Tweet:    Vormetric 13x Market Growth & Future Vision @kessalan CEO #DataProtection bit.ly/25CHoqD pic.twitter.com/bpHR75nzo2
THEN
In FY16 (the twelve months ending April 30, 2016) we achieved 62% YOY growth in bookings and 85% growth in bookings in the last quarter of that period. Growth exceeded by 13X the 2015 Security Software Market growth forecast for 2015 as reported by Gartner. Bookings growth for the Vormetric Data Protection Platform accelerated from 42% in the previous 12 month period, and 28% in calendar 2014.
We can attribute this growth to a number of variables. They are, among many others, a) new customer opportunities as TeS and legacy Vormetric merged b) exceptional expansion through our cloud, technology and channel partners (who include Rackspace, Cisco, Docker and MongoDB and many, many others) and c) enhancements to the Vormetric Data Protection Platform. Those enhancements entailed advanced data-at-rest security for Docker; format preserving encryption; data access controls for encrypted information in Hadoop; RESTful APIs and performance enhancements of up to 250% for Hadoop.
Sounds like a lot? It is, but we wouldn't have it any other way. It's all part of our relentless focus to dramatically reduce the operational impact of implementing and operating our data security platform. We're also hugely incentivized and inspired by our customers. They've very clearly given us and continue to give us their vote of confidence. We owe them a sincere and heartfelt thanks for our incredible growth.
Let's also not forget the unveiling of our 2016 Vormetric Data Threat Report(our fourth edition) and the launches of Vormetric Vaultless Tokenization and (patent pending) Vormetric Live Data Transformation, a solution that encrypts data without having to take applications offline.
And this is just a snapshot of what drove our success. For a more detailed breakdown, please check out our official momentum release.
NOW
After all this, you might think we'd be inclined to sit back and rest on our laurels. You'd be wrong. Very wrong. TeS and Vormetric are not going anywhere but up – and as we all know, going up means hard work. Going up means dedication to creating the most exceptional product line possible. Going up means steadfast commitment to our partners and customers.
This can-do attitude is necessary in our current threat environment. In 2015, over 169 million personal records were exposed, stemming from 781 publicized breaches across the financial, business, education, and government and healthcare sectors. The average global cost per each lost or stolen record containing confidential and sensitive data was $154. The industry with the highest cost per stolen record was healthcare, at $363 per record. Understandably, 74 percent of CISOs are concerned about employees stealing sensitive company information.
Needless to say, any security vendor worth its salt would be focused on helping its customer confidently navigate this uneasy landscape. Now is not the time for smoke and mirror campaigns, or false promises.
THE FUTURE
The previous discussion brings us to the next topic at hand: why, even with the myriad of global cybersecurity challenges we face, the future is bright for Vormetric and TeS:
To start, we share many of the same world-renowned customers. Vormetric's security architecture protects the data of over 1,500 global customers—including 17 of the Fortune 30. Concurrently, TeS protects data for:

21 NATO member countries
19 of the 20 largest banks in the world
3,000 financial institutions worldwide
4 out of 5 top energy companies
4 out of 5 aerospace companies

Ever heard of a little concept called the "Internet of Things"? IoT is, to put it mildly, huge, and – and TeS has established itself as a supplier of trusted solutions to existing and emerging IoT manufacturers, such as Samsung. Meanwhile, Vormetric has established itself as company that can handle a host of infrastructures. The IoT isn't a challenge – it's an opportunity
With this in mind…we both believe security is a business enabler. Encryption, tokenization and other data security capabilities offered by the Vormetric and Thales platform helps reduce compliance scope for many businesses, which turns into an immediate business advantage. Modern security solutions such as encryption, tokenization and strong access policies (e.g. access controls and access monitoring) enable organizations to not only safeguard traditional applications, but to also take advantage of cloud, SaaS services, IoT and big data without incurring new risks to data. By leveraging these business models, organizations benefit from the flexibility and cost savings inherent in these environments without risk to the bottom line.
Customers are looking for friction-less solutions and a painless implementation process. Gone are the days when businesses had to wrangle with tens of vendors and potentially deploy tens of solutions in order to get what they needed. Fortunately, the combination of TeS and Vormetric provides the most comprehensive data security platform available – one that protects more environments, more ways, more securely and at an affordable cost
The TeS and Vormetric future vision is nothing short of enabling our customers to securely drive the digital transformation of their enterprises and organizations. It's better, it's faster and it's stronger.
Will you stay behind, or will you join us? The choice is yours.