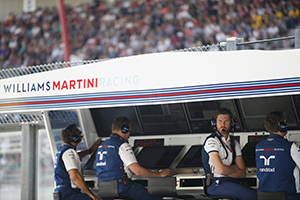 In Formula 1, data can make all the difference. It's what sets one team apart from the rest, as careful analysis of telemetry data helps to shave those all-important hundredths of seconds off lap times. If that precious data is stolen, or compromised, racing teams could not only lose their competitive edge but also damage their brand's reputation.
In today's ever evolving threat landscape, the risks of this data falling into the wrong hands are very real and this is what brought Williams to Thales. By coming together, Thales will now deliver state-of-the-art cyber security solutions for real-time global telemetry transmission to both Williams Martini Racing and Williams Advanced Engineering, the engineering services and technology division of Williams.
Driving data protection
The expertise brought by Thales will assist Williams in protecting its confidential, high-value data. With Thales' Datacryptor 5000 we can deliver high speed data protection with low latency to ensure the Williams team do not have to compromise performance for a more secure solution. And as a result, the team have high assurance, real-time global telemetry transmission from the pitlane back to Williams' headquarters.
Roaming risks
With teams travelling to tracks across the world, most Formula 1 teams - Williams included - take mobile data centres and essentially make their own networks. The connected nature of the mobile data centre means that it needs to be secured against attacks, as it could potentially act as an attack vector leading hackers straight to the team's HQ. This is the biggest concern for the Williams IT team, because once cyber criminals get hold of this data, and gained insight into the reasons behind why Williams have made certain decisions when it comes to design, for example, then the company's secrets behind its success are revealed.
Unfortunately, in today's digital world you can never defend against everything – attackers are becoming more sophisticated and constantly coming up with news ways to get into company's networks. A general approach to security, then, is no longer sufficient enough protection. What we have done with Williams, and what we encourage all companies to do, is take a step back and consider what the most valuable information is and why someone might want to disrupt it. Then take the necessary steps to protect it. Taking this proactive approach will, ultimately, put you in pole position when it comes to cyber security.
You can read the full Business Reporter interview with our CTO Jon Geater and IT director at Williams F1, Graeme Hackland, about what this partnership means, here.