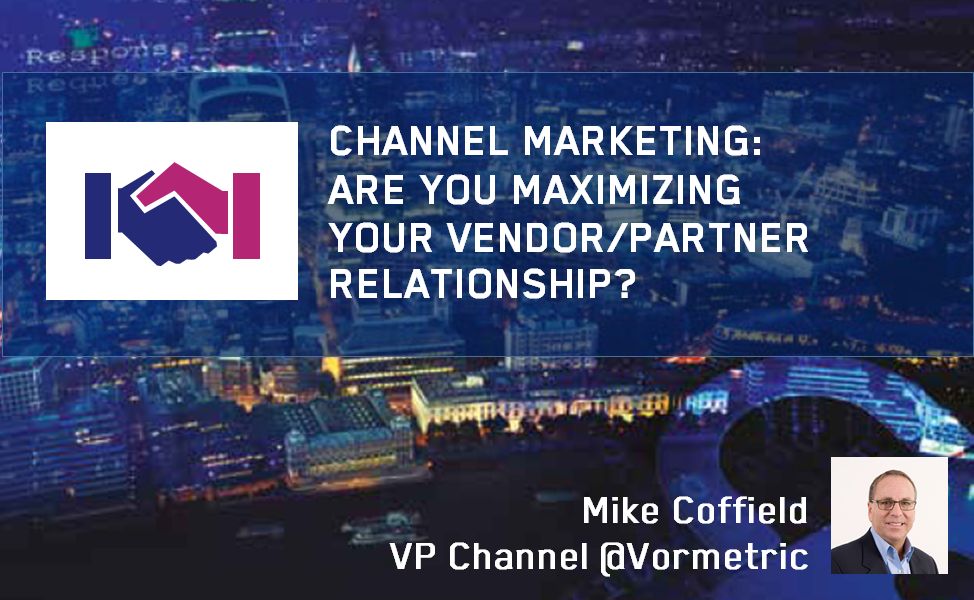 There is no one-size-fits-all solution when it comes to working with and helping to support channel partners. There are more than 180,000 IT service providers in North America alone: some are large with big marketing budgets, others are smaller shops striving to become a "high-growth partner," increase their customer base and remain competitive through innovative new offerings.
Click to Tweet: Channel Marketing: How savvy partners leverage vendor resources to maximize business bit.ly/2dhnrSl pic.twitter.com/mgzaMUvM8Y
Today's IT vendors strive to have anywhere from 50-60 percent of their revenue stream stem from the channel. Therefore, vendors need to invest in the appropriate infrastructure to support that channel. One such way is through joint marketing campaigns and activities that help raise awareness and bring in customers. Vendors who have taken a true vested interest in their partner's investment and business plan by learning about the organization at a deeper level are better equipped to get the most out of custom marketing engagements.
One of the greatest indicators of a strong vendor/partner relationship is the execution of a successful joint market engagement that gains the market's interest, builds a sales pipeline and delivers joint customers for both the partner and the vendor. Whether large or small, most channel partners and/or VARs strive to increase awareness about the company and its offerings. One such way to be seen as a credible expert in the space – and to grow company awareness – is through increasing your marketing investment. However limited internal resources, staff expertise and budget constraints often create challenges for channel partners to execute on their creative marketing ideas.
The little known fact is this: channel partners shouldn't have to look solely within their own budgets. Savvy channel partners have elected to leverage vendor relationships to maximize the reach, scope and efficacy of the marketing program. Below I've outlined my tips to maximizing your vendor/partner relationship in order to co-market and leverage existing assets:
Build a library of relevant marketing materials: Vendors should provide their partners with a suite of materials that can either be fully branded or co-branded. It should follow the multiple stages of the buyer's journey since many prospects may not be in the position to make an investment at that very moment. These items should include: datasheets, whitepapers, infographics, sales presentations, email templates and more. The vendor is the expert of your product offerings and should be able to tell you which asset should be used and when. Channel partners shouldn't be expected to develop content, tools and/or resources for every single product they sell.
Ask for a "campaign-in-a-box:" Your vendor partner should offer an at-the-ready integrated marketing campaign that shares a consistent narrative throughout a variety of marketing tactics focused on lead generation and raising brand awareness. Ideally, the campaign-in-a-box is easily accessible via the vendor's Partner Portal and will include pre-made assets designed to be quickly customized and easily loaded into the company's CRM system for email marketing, social media activity, or even blog posts.
Invest in webinar-featured marketing campaigns: This is a tried-and-true method for generating new leads, strengthening customer relationships and nurturing existing leads. For B2B vendors in particular, content marketing is most effective at lead generation and also has the additional benefit of creating brand awareness and thought leadership. Chose a topic that is timely, relevant and mutually beneficial to each company and their target buyer/prospect. Leading up to the event, during and afterward, don't forget to promote and communicate to your core audience via email marketing and social media channels and follow up in a timely fashion with event attendees and people that signed up but did not show. Record your session! In general, we find an 80-100 percent uplift in attendance if people are allowed to access a recorded webcast. As far as leads go, it's the gift that keeps on giving.
Host a joint-event: Whether hosting a happy hour event during a widely-attended industry conference (like we've done previously during RSA Conference) or hosting your own gathering, this is a great opportunity to share the cost and resources involved in putting on a successful event. It also allows your prospect to "see" both the vendor and channel partner together thus helping them feel comfortable that the partnership is more than just at a transactional level. It's important to clearly assign owners for each item and determine the budget restrictions for each participant.
Participate in thought leadership activities: Among the most challenging to quantify and execute, thought leadership is a core part of building brand awareness and demonstrating expertise in a particular industry or market. However, without significant PR muscle or a charismatic and knowledgeable thought leader, this element can be challenging for channel partners to include in their marketing mix. Therefore, vendors should look for ways to include their channel partners in their various thought leadership campaigns. For example, last year we offered limited sponsorship opportunities for our annual Data Threat Report.
The success of a channel partner relationship is largely dependent on how much effort the vendor takes to get to know the unique needs of its channel partners. However, on the other side of the coin, building a solid relationship has to be a "two-way-street." The vendor can't be expected to generate all of the effort; channel partners must also take initiative and leverage what the vendor provides while also generating their own initiatives. A strong partnership can only be established from equal effort coming from both sides. Ultimately, co-marketing allows channel partners to take advantage of the vast resources of the IT vendor and to further demonstrate their commitment toward their vendor/partner relationship.