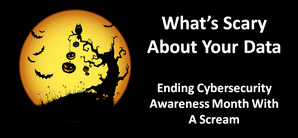 Halloween is nearly upon us. It's the time of year when individuals are captivated by haunts, horrors, creepy-crawlies and things that go bump in the night. But amid the spooktacular festivities, you may be forgetting one of the scariest things of all – your data.
Back in July, we released the results of a survey on what Americans' most feared getting hacked. Our survey revealed that participants most fear the hacking of their cars (61%) and home security cameras (also 61%). But the truth is that there is a scary amount of our data out there that remains unprotected. When that data falls into the wrong hands, we learn just how vulnerable we are.
Let's discuss some recent data breaches to explore what's truly frightening about your data being in the hands of the wrong people.
VTech: In a data breach that took place just about a year ago, parents around the world were shaken after hackers accessed the VTech database containing information on more than 6 million children who use the company's toys. For my family, the only video games I allow my children to play (at least during the week) are educational ones offered by the school. And while learning is supposed to be fun and purely beneficial, it's frightening what information could have be stolen about my child through a data breach such as this had I had this application. (Hello Barbie, while less educational, is another great example of digital toys getting hacked.)
Wendy's: I still remember back when getting a quick hamburger used to be fun with no fear about what happens afterwards. No, I'm not talking about the fake finger incident, but what happened this last summer, where at least 1,025 Wendy's locations were hit by a malware-driven credit card breach. As payments continue to make the move to digital (who uses "cash" anymore?), it has become increasingly clear that convenience isn't always synonymous with security. For more on security and digital payments, take a look at CEO Alan Kessler's recent blog post.
Moonpig: You wouldn't think that sending a card should cause you to shiver, but it seems hackers are lurking everywhere. Following a series of data breaches, it was announced last year that user details of online greeting card company, Moonpig were exposed. Don't get me wrong, I send online greeting cards all the time. However, it's important to for these vendors to protect personal information and so our most affectionate thoughts (credit card information and addresses) will not be exposed to hackers.
And yes, there is more. Yahoo!, MySpace and LinkedIn taught us that email and social media may not be that safe afterall. Even voter databases have been compromised. If voting in a new president wasn't an uncertain enough time for our county, it sure is now.
Feeling spooked? The good news is that data doesn't have to be scary. With encryption and data security technologies, organizations can shore up their data defenses to establish and maintain privacy in the digital age. Let's close out National Cybersecurity Awareness Month with a strong awareness of the risks of our digital world and strong resolution for a more secure (and less frightening) 2017.
Lastly, here are my top three Halloween costumes for 2016:
Click here to learn more about what Thales can do for you, or tweet me @SocialTIS