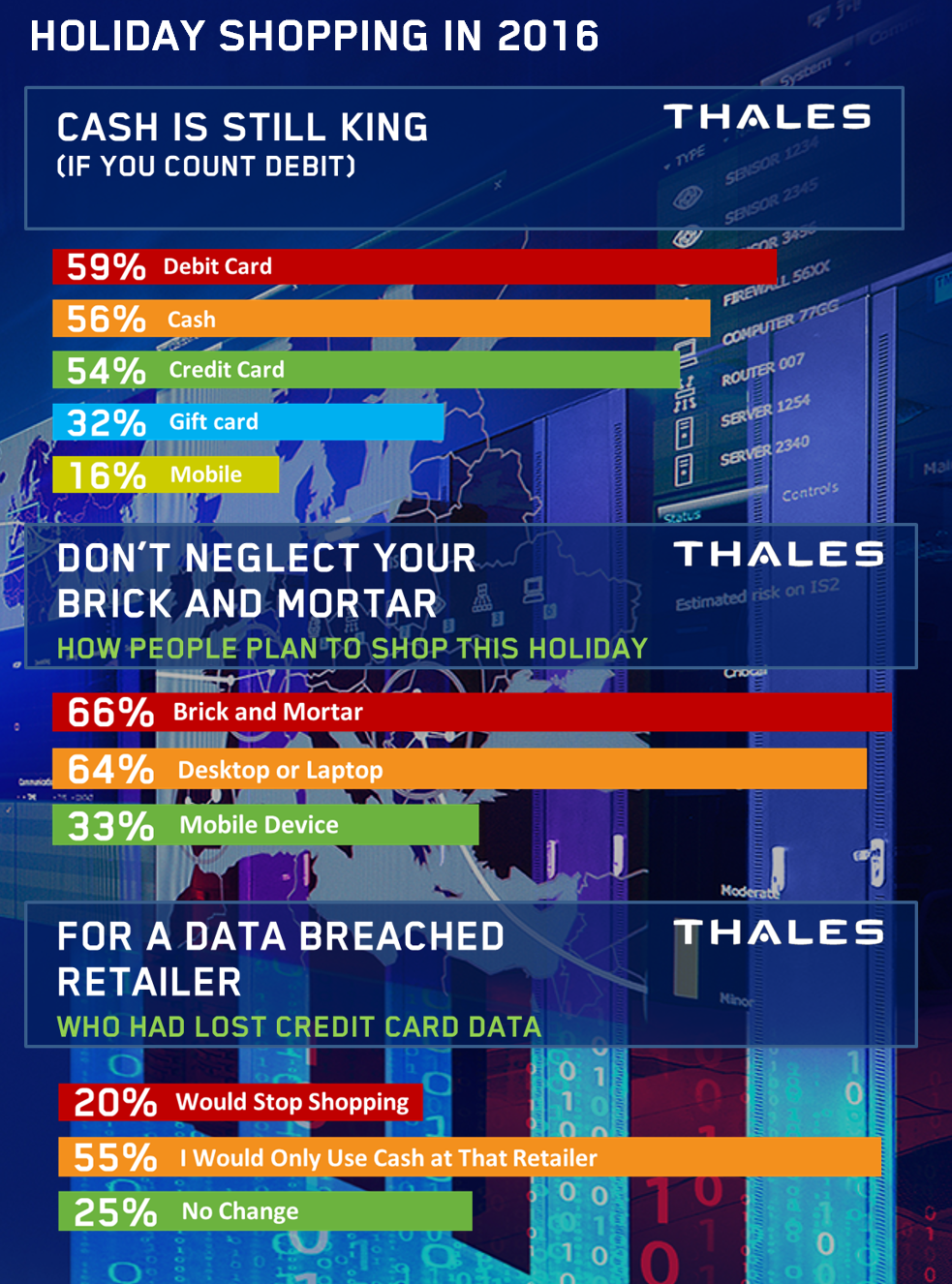 We recently released a survey about consumer's attitudes and behavior around this "Most Shopping Time of Year", and some of the results go straight to people and retailer's pocket books.  First up let's talk about what people will actually use to pay this season.
Cash is still King (if you count Debit)
The first thing you'll notice is that in spite of all the hype around Mobile payments, they were dead last on our list of payment options that people are planning.  At the top?  Debit cards at 59% and Cash at 56%.   Although people are definitely using credit cards (54%), the stereotype of consumers spending themselves into debt to enjoy the holiday season isn't too evident from the numbers.  Perhaps if we'd asked for a percentage of purchases / dollars spent we'd have a different answer, but for me this means that people are actually thinking about what these purchases will mean to their bottom line – and limiting purchases to what you have in the bank right now is a great way to do that.
I recall from last year, how post holiday shopping numbers showed that people were only mildly increasing spending (3%), and that it was a tough holiday season.  This seems to support that continuing.
Click to Tweet: 20% will immediately stop shopping after a breach @akicklighter bit.ly/2hkGNGA pic.twitter.com/NRHIriS9Zy
Which of the following payment methods do you plan to use for your holiday purchases this year?
59% - Debit card
56% - Cash
54% - Credit card
32% - Gift cards
16% - Mobile payment, such as Apple Pay or Android Pay
Retailers – Limit your own success this season with a data breach
We took a look with another survey question at what consumers would do this holiday season if a retailer lost their information in a data breach.  The real kicker is how much business there is to lose if this happens.
Bottom line?
Lose 20% of your business immediately. Consumers said they'd just stop shopping there. Period.
55% - I'd only shop there using cash. Frankly this is just as bad the for retailer as the 20% who would stop shopping there immediately – If you take away debit cards, credit cards and mobile, lots of people are NOT going to be shopping at your store or online site.  A separate survey from earlier this year showed 42% of Americans don't even use cash for small purchases.  So ... this number likely cuts out another big percentage of customers.
OK … So how realistic is this?.  Remember the Target breach a couple of years ago?  Been to your local Target store recently?  I have … people seem to have forgotten at this point.  But the company went through a long period of missed quarters and management shakeups before memories started to fade.  Retailers – A breach is really going to hurt your bottom line.  This is a case for that old chestnut "An ounce of prevention is worth a pound of cure".  Invest in data security technologies that are effective even after perimeters and accounts have been breached.
If a retailer had been hacked and had customer credit card information stolen at some point, which of the following best describes how you would react?
20% - I would not shop there anymore
55% - I would shop there but only using cash, not debit, mobile or other payments
25% - I would shop and use all payment methods there as usual 25%
Don't Neglect Your Brick and Mortar
Did you notice recently that leading online retailer Amazon actually opened brick and mortar stores? And has plans for a 100 across the US?  Amazon is doing this for a very good reason – brick and mortar isn't going away.  I have to think that others are doing what I do when I need something the same day – I shop the online site and check stock at a nearby store.  Then buy local.
You can say that this will decline as Amazon and other retailers ramp up "drone delivery" from local stocks (which I'm simply not sure I believe in for anytime soon), but shopping is also a social activity, a stress reliever for some, and many of us just need to touch, see and feel when we shop.  Not to mention the slow moving demographics of older shoppers, that simply want to keep doing things the way they have their entire lives.
My position is that even though most people are shopping on-line, you are going to need that brick and mortar in many businesses.
Which of the following, if any, describe how you will be making your holiday purchases this year?
66% - At a store's physical location
64% - On a desktop or laptop computer
33% - On a mobile device, smartphone or tablet
8% - I do not plan to do any holiday shopping this year
Another observation … Mobile isn't coming on as fast as all the hype might have you believe.  Yes – 33% said they would do some shopping from a smartphone or tablet device, and 16% are planning to use mobile payments.  That's an evolutionary improvement that I think we'll see continue going forward, but not a tsunami consuming traditional payment methods any time soon.
What's our interest in this here at Thales?  We provide the solutions that help organizations secure data across their enterprise.  We help secure traditional payments, mobile payments and data-at-rest for 19 of the world's 20 largest banks and provide PKI, data security and compliance solutions to 15 of the Fortune 25.
It's our mission to provide enterprises everything they need to protect and manage their data and scale easily to new environments and requirements—encryption, advanced key management, tokenization, authorization, privileged user control, and HSMs.  You might say we have a vested interest in helping retailers get this right.