"I did not plan my foray into security," says Ashvin Kamaraju who, to date, has racked up an impressive seven-year tenure at Thales.
With a background in operating systems, file systems and storage, Ashvin was initially hired to help scale products in those areas. In the process, he developed an interest and expertise in data security.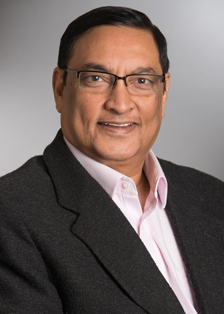 Ashvin has certainly traveled an unconventional path into a leadership role in enterprise security (believe it or not, he holds undergraduate and graduate degrees in chemical engineering and a master's in math)! With his diverse technical background, it comes as no surprise that he credits working with a broad portfolio of cybersecurity products and a top-notch global team as two of the most rewarding parts of his job.
And where does he see himself in the next five to 10 years?
"Mentoring the next generation of technology leaders and being involved in social entrepreneurship," he says. A fitting next-step for a multi-faceted leader.
Place of birth: A small town near Hyderabad, India.
First job: I was an apprentice at a petrochemical complex in Mumbai. I worked in an ethyl alcohol/polyethylene glycol plant doing process control operations.
Number of cups of coffee I drink per day: Two.
Passion outside of work: In addition to being a news junky and wine aficionado, I'm currently learning to play the guitar – I love The Blues! I also enjoy reading and hiking in my spare time.
What cyber attack would you be and why? I wouldn't be – I'm the good guy!