The 2018 RSA Conference officially kicked off with a welcome reception on Monday evening. Following a couple hours spent milling around the exhibits, speaking with industry cohorts, and giving the Thales Escape Room a go (along with other RSA attendees), the Thales team headed over to Jillian's San Francisco for the company's yearly RSA customer and partner appreciation happy hour.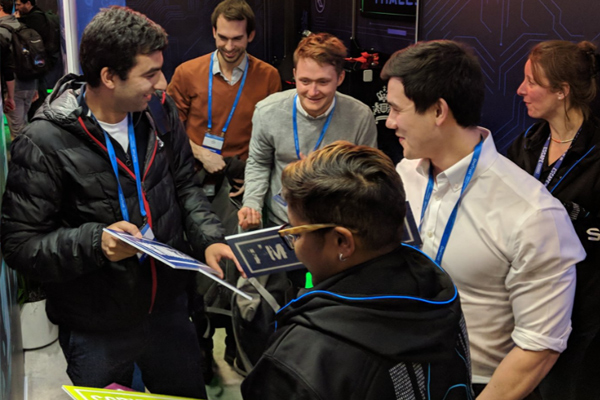 The first team to beat the clock and "escape the room".
In between appetizers and cocktails, Thales executives shared their thoughts about RSA, while partners and customers commented on their collaborations with Thales:
C.J. Radford, Global VP, Cloud, Thales: RSA is one of those litmus tests for the year. There's lots of meeting, inquiries, and a surge in demand for security solutions. It's energizing.
Nick Jovanovic, VP Federal of Thales Federal (a division of TDSI): My hope with RSA is that people have an awakening during the conference with respect to the importance of placing access controls close to their critical data.
Darron Antill, CEO, Device Authority (Thales partner): While our relationship with Thales is new, it's blossoming. We're at the start of a journey, and it feels good.
Al Fitzpatrick, Senior IT Manager, Charles Schwab, and Brian Thatcher, Senior Security Engineer, Charles Schwab (Thales customer): When it comes to Thales, we love the customer support we receive. The product for managing TDE (transparent data encryption) is off the charts – especially when it went from 5.0 to 6.0 and enabled LDT (live data transformation). It helped in our success.
Interested in learning more? You have a few options:
Visit Thales this week at booth #3425 North Expo, RSA Conference, Moscone Center, San Francisco
On April 19 at 3pm, drop by Thales CTO Jon Geater's session, Alice in Post Quantum Wonderland; Bob through the Digital Looking Glass. In a generation the world has changed beyond recognition – more than once. The buzz about advances in technology and their impact on data security can be overwhelming. Geater will detail practical ways to protect yourself in a changing world
Check out the company's latest RSA cloud storage product announcement and accompanying blog