RSA 2018 kicked off on a high note with Thales annual partner/customer happy hour, and the week just got better from there. Our hard-working staff remained energetic and unflappable, as it juggled various roles: guiding conference attendees through the Cyber Escape Room; walking booth visitors through demos of the Thales product line; managing giveaways (the URB-E scooter proved highly popular!) and of course, fielding meetings with and answering questions from partners, customers, and potential customers.
Here are a few highlights from a very good week:
The Thales Cyber Escape Room
The premise behind our Cyber Escape Room? In tandem with a team of 2-3 other participants, 'beat the clock' by solving a cybersecurity-related problem within 10 minutes. Needless to say, it wasn't an easy feat. Despite that, the booth proved wildly popular. Quick facts:
The fastest group 'beat the clock' in a whopping 3 minutes, 58 seconds
Four groups went through every hour; each group typically consisted of 4 people
By the end of the week, the total number of RSA Escape Room visitors was 190+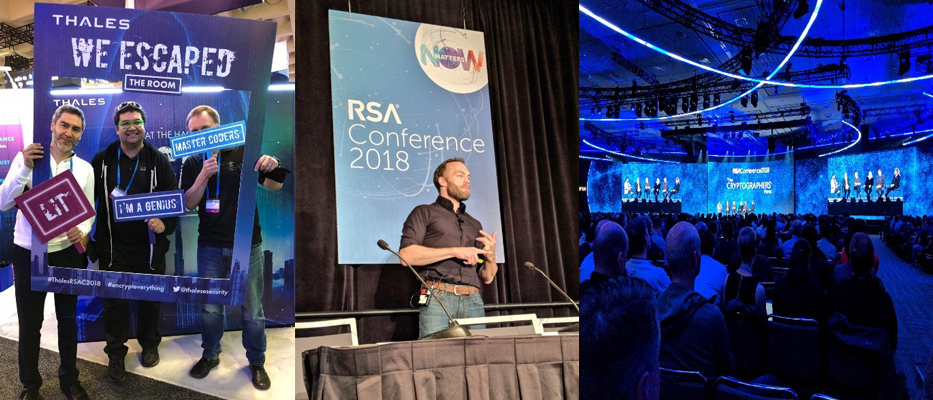 From L to R: A winning team celebrates its Escape Room victory; Thales CTO Jon Geater presents his session; the riveted audience during The Cryptographers' Panel
Thales CTO Jon Geater: Alice in Post Quantum Wonderland - Bob through the Digital Looking Glass
On Thursday Thales CTO Jon Geater delivered his classroom conference session, "Alice in Post Quantum Wonderland - Bob through the Digital Looking Glass". His talk proved popular, with audience members queuing up to speak with him afterwards. A sampling of comments made by Jon:
Quantum key exchange is a potentially very simple and extremely secure technique in cryptography
Quantum cryptanalysis is effectively breaking cryptography with quantum computers
Don't be scared of quantum, it's just one of the many ways to be crypto agile
Keynote Talk at RSA: The Cryptographers' Panel
The major buzz at the RSA keynotes this year was without doubt The Cryptographers' Panel, which kicked off the opening day of RSA 2018, and which saw queues even for the waiting rooms meant to accommodate the overflow crowd. Luckily, we had a ringside seat.
Chaired by RSA's CTO, Zulfikar Ramzan, the panelists were cryptographer and security expert Whitfield Diffie; security researcher Paul Kocher; founder of Signal Moxie Marlinspike; MIT Institute professor Ronald Rivest; and Borman Professor of Computer Science at The Weizmann Institute Adi Shamir.
Whitfield Diffie perhaps encapsulated the mood of the conference best, noting investors and decision makers have come together at the RSA Conference this year in unprecedented numbers and need to work together to solve the world's greatest security problems. In a nod to recent events in Europe and the U.S., Ronald Rivest asserted election security that will be the major focus for the security industry in the year ahead. And in summarizing the task at hand, Moxie Marlinspike said he believed social networks have a newfound responsibility to "help build an infrastructure for the world that we want."
Keynote Talk at RSA: DHS Secretary Kirstjen M. Nielsen
One of the most hotly anticipated of this year's keynotes was a speech by the Honorable Kirstjen Nielsen, Secretary of the U.S. Department of Homeland Security. Secretary Nielsen focused her keynote on the future of cyberattack prevention, framing the debate by proposing that different hostile actors have different motivations, and that geopolitical actions have a real impact in borderless cyberspace.
Secretary Nielsen asserted that cybersecurity is now everyone's problem, and that she expects the cyber threat landscape will become dimmer before it can improve. She rounded off her presentation with a shot across the bow, stating that all measures necessary will be taken by the DHS to deter and punish cyber criminals.
Panel Discussion at RSA: Hacking Healthcare
If feedback from the audience is anything to go by, then Thursday's Hacking Healthcare panel was the star of this year's show. "The best talk of the entire week," said one audience member during the Q&A, undoubtedly due to the real-world illustrations of the impact of cyberattacks on healthcare facilities and healthcare instruments. These were brought to life with an on-stage simulation involving cardiologists exposed to a cyberattack while treating a patient.
Speaker Josh Corman of I Am The Cavalry, who is also an innovation fellow at The Atlantic Council, stated that 85 percent of hospitals do not have a single IT security professional, and that society's dependence on technology is outpacing our ability to secure it.
Until Next Year…
Clearly, the security challenges facing organizations, governments, and individuals is daunting. But, another year remains between now and next year's RSA Conference – and while there's a good chance we'll all experience some setbacks, there's also the opportunity for major security breakthroughs.
With that in mind…RSA 2019, here we come.
For more information about Thales, please: