For many years, Thales has been a solution provider member of the Cloud Security Alliance (CSA), a global organization dedicated to defining and raising awareness of best practices to help ensure a secure cloud computing environment1.
Among CSA's many activities is its research arm, which include 34 working groups, one of which is called Security Guidance. Recently this working group published CSA Security Guidance v4.0. Security Guidance v4.0 is divided up into "security domains" which I will refer to from here as "chapters" when I'm talking about the structure of the document. While I really dig on Security Guidance v4.0 (at least, the chapters that I understand), our systems engineers have found that actual secure cloud migration tends to cut across many domains of cloud security.
I'm getting on a plane next week to give a couple of speaking sessions on secure cloud migration, during which I'm leveraging our latest white paper, titled, "Best Practices for Secure Cloud Migration" (subtitled "Leveraging Cloud Security Alliance Security Guidance"). See, they go together. The white paper goes through some actual data protection use cases. For each, it identifies each chapter of Security Guidance v.40 that provides unbiased detail on the topic. In my most humble opinion, we formatted the paper to best serve interested readers: In plain black-and-white the reader finds use cases, relevant domains, and additional best-practice recommendations. In blue and white on the same page, various Thales products involved with the use cases and relevant security domains are discussed. The reader can focus their attention on the black-and-white objective content, and read or ignore the blue-and-white. It's a solid white paper, and I strongly urge you to check it out.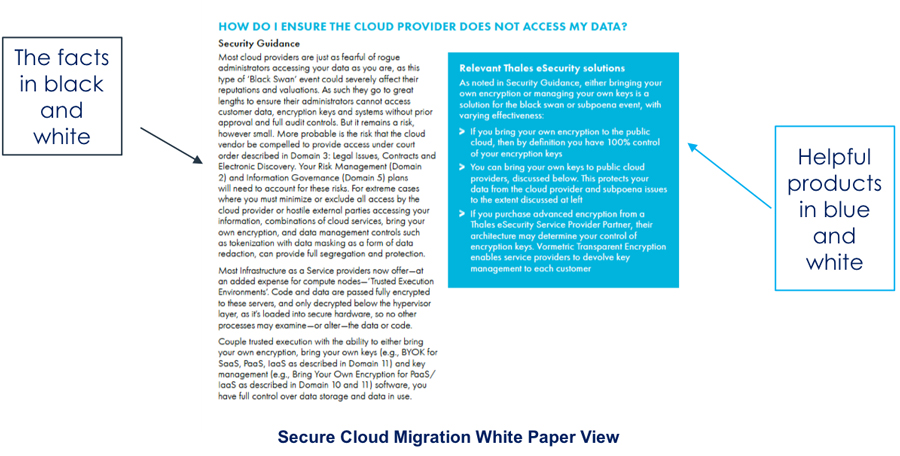 Send your best wishes on my speaking slots by tweeting me @cyberswimmer or message me on LinkedIn at https://www.linkedin.com/in/cyberswimmer. As always, you're free to leave a comment below.