I was really looking forward to participating in RSA 2019 and it was a great event. There was tremendous energy and buzz in our booth and on the show floor. The lively interactions in our booth validated that the Vormetric product line is still highly relevant and solves many of today's challenges as customers move controls closer to the data, and also migrate their data to the cloud. I have always evangelized that you can either bring your own encryption or bring your own key to the cloud…as both provide a higher security posture than subscribing to KMS, and will ensure encrypted workloads in the cloud are doing their job without risk. This strategy continued to resonate with customers, prospects and partners at the show.
In our booth, people were raving about our VR experience in which visitors challenged themselves to beat the hackers during an underwater data center breach. (there still might be a waiting list for those who want to give it a shot) I also found that Thales's participation in the AWS and Oasis booths, and having our partners, Cognizant, Motiv and Pure Storage, feature demos in ours really showcased the depth and breadth of our partner ecosystem.

Other key moments for Thales during the show included our "Thales in Wonderland" customer appreciation event last Monday, where we had a packed room during a fun and festive evening. And last Tuesday, Sol Cates, VP of technical strategy, spoke to a standing room-only crowd of over 160 people on "Kubernetes Deployments: How Not to Get Hacked." In addition, our Thales shrink-wrapped bus shuttled dozens of employees up from our San Jose location so they could take in the show as well.
No Silver Bullet
Walking the show floor among hundreds of vendors from large, multinational players to scrappy, innovative startups, I concluded that there is no "silver bullet" security company. A recent article in ZDNet pointed this out as well. The industry will continue to boom financially, but the battle to reduce the number of cyber attacks will wage on for the foreseeable future.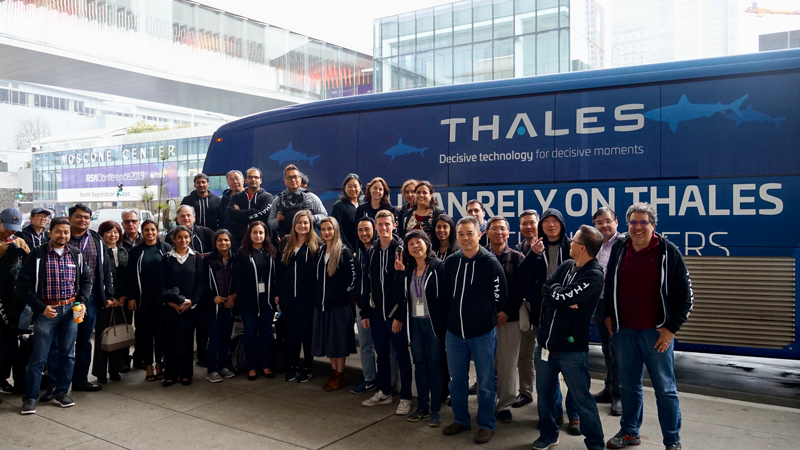 I also think that consolidation will be no stranger to the industry as we see several big fish continue to gobble up the smaller ones. (evidenced by the acquisition of White Hat Security by NTT during the show last week).
RSA will continue to be the premier security industry event. It will be interesting to see how far the market has come this time next year in solving the biggest cybersecurity challenges and whether or not hackers are getting the upper hand.
In the meantime, I look forward to all the follow conversations with interested contacts that we met at RSA.
For more information on how Thales can address your cybersecurity needs, please visit our website and follow us on Twitter @Thalesesecurity, and on LinkedIn, Facebook and YouTube.