Report 2021
Data Threat Report
Data Security in the Era of Accelerated
Cloud Transformation and Remote Work
Get the Report Now

White House Executive Order on Improving the Nation's Cybersecurity
Learn how Thales solutions for multi-factor authentication and encryption for data at rest and in motion can help Federal agencies meet the deadline

Challenge Accepted!
Ingenuity in Space and at Home
Cybersecurity During a Pandemic - Experts Share
Their Insights and How to Protect Your Company

CipherTrust Data
Security Platform
Discover, protect and control sensitive data anywhere
with next-generation unified data protection.

Security Sessions Podcast
Bringing you insights from industry experts on
the latest cloud & data security news and trends.

Gartner Report: Innovation Insight for Many Flavors of Authentication Tokens
From FIDO to OTP, see how Thales offers the broadest range of authenticators
We provide security for a world powered by
the cloud, data and software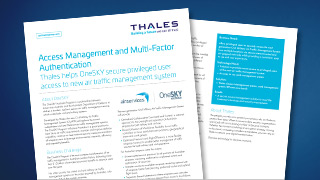 OneSKY Australia Program Secures User Access
to New Air Traffic Management System with Thales
OneSKY Program relies on Thales Access Management and Multi-Factor Authentication solution to authenticate privileged users so the organization can meet enhanced access security requirements.
Read the Case Study
See More Customer Stories
Resources and Useful Insights

See the Advantage of the Thales Accelerate Partner Network
500+
Technology Integrations