SAN JOSE, Calif. – July 28, 2015 – Vormetric, a leader in enterprise data security for physical, virtual, big data and cloud environments, today announced in conjunction with Wakefield, the results of its survey on how Americans believe the U.S. government should react following a nation-state attack against U.S. government data. While a majority of respondents favor initiating talks between the U.S. president and the country's leaders to stop future data breaches, a significant number of Americans also support a 'get tough' approach to hacking with one in four Americans stating that the government should cut off all ties.
ClickToTweet: 92% of Americans want actions to result from nation-state cyberattacks http://bit.ly/1MrK4QP pic.twitter.com/TBWV5NozRq
Although malicious cyberattacks have the potential to damage the economy and weaken national security, Americans lean towards diplomatic responses:
Initiating talks between the U.S. president and the country's leaders to stop future data breaches (45 percent)
Imposing trade sanctions on the country's goods (36 percent)
Imposing diplomatic sanctions on the country's government officials who are located in the U.S. (31 percent)
A substantial percentage favored stronger measures:
Cut off all ties with the country (25 percent)
Hack the country's government infrastructure to obtain similar data (10 percent)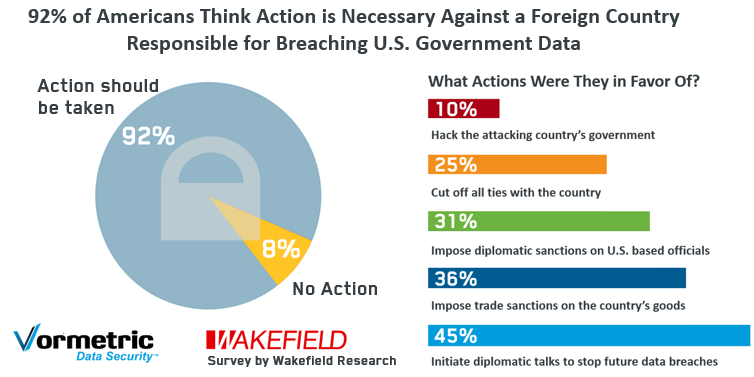 This year's massive nation-state breaches against government agencies – such as those against the Office of Personal Management (OPM), the IRS and Department of State – have taught us just how vulnerable government data is to cyberattacks. Nation-state attacks are not a new phenomenon, but an increased reliance on the digital world has exposed the United States to a new realm of spying.
"The OPM and IRS breaches this year bring focus back to the fact that criminal hacking for financial gain is only one of the motivations behind cyberattacks and data breaches" said President and CEO of Vormetric, Alan Kessler. "Spying out government secrets and stealing critical intellectual property are the other side of the coin from criminal hacks. With ninety two percent in favor of taking action, and a substantial percentage favoring active measures – such as the one in four that want to cut off diplomatic ties, and the ten percent in favor of 'hacking back' – sentiments are clearly running hot on this issue."
Source/Methodology
The Vormetric Survey was conducted by Wakefield Research among 1,026 nationally representative U.S. adults ages 18+ between July 10th and July 16th, 2015, using an email invitation and an online survey. Quotas have been set to ensure reliable and accurate representation of the U.S. adult population ages 18+. Results of any sample are subject to sampling variation. The magnitude of the variation is measurable and is affected by the number of interviews and the level of the percentages expressing the results. For the interviews conducted in this particular study, the chances are 95 in 100 that a survey result does not vary, plus or minus, by more than 3.1 percentage points from the result that would be obtained if interviews had been conducted with all persons in the universe represented by the sample.
About Vormetric
Vormetric (@Vormetric) is the industry leader in data security solutions that protect data-at-rest across physical, big data and cloud environments. Vormetric helps over 1500 customers, including 17 of the Fortune 30, to meet compliance requirements and protect what matters – their sensitive data – from both internal and external threats. The company's scalable Vormetric Data Security Platform protects any file, any database and any application's data —anywhere it resides — with a high performance, market-leading solution set. For more information, please visit: www.vormetric.com.
Vormetric USA
Megan Nemeh
SHIFT Communications
+1 (415) 591-8409
mnemeh@shiftcomm.comVormetric UK/EMEA
Jonathan Mathias / Kasia Murphy
Johnson King
+44 (0)20 7401 7968
VormetricTeam@johnsonking.co.ukVormetric South Korea
Chorong Min
M&K PR
+82 2 566-8898
itpr@mincomm.com