SafeNet Trusted Access recognised for wide range of authentication methods, delivering risk adaptive authentication alongside access management functions
Thales received strong positives for security, functionality, market position, financial strength and ecosystem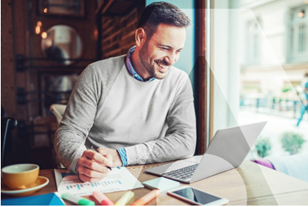 Thales today announced that it has been named as an Overall Leader in the 2022 KuppingerCole Leadership Compass for Passwordless Authentication.
The report recognised Thales as a global leader within the passwordless authentication market through its SafeNet Trusted Access offer, which received accolades for its authentication support, authorisation and policy management, in additional to its on-premises abilities, risk adaptive factors and dashboards.
KuppingerCole evaluated Thales' standing, following a detailed analysis of other industry players, market reach and analysis of product capabilities. Thales received "Strong Positives" for its security, functionality, market position, financial strength and ecosystem. In addition to being recognized as an Overall Leader, Kuppinger recognized Thales in the Product Leader, Market Leader and Market Champions categories.
Understanding the threat landscape
With the threat landscape becoming more sophisticated than ever before, organisations understand that they need to expand authentication to support a much broader range of applications and types of users. For example, according to the 2022 Thales Access Management Index, 48% of IT professionals surveyed said their organisation has adopted passwordless authentication.
An industry leading solution
SafeNet Trusted Access simplifies user access to cloud services, streamlines cloud identity management and helps eliminate password hassles for IT and users, while providing administrators a single pane view of access events across their app estate to ensure that the right user has access to the right application at the right level of trust.
OneWelcome Acquisition
Thales recently completed its acquisition of OneWelcome, a European leader in customer identity and access management. With this acquisition, Thales will offer a comprehensive Identity Platform that will allow organisations of all sizes to manage internal and external identities, enabling them to bring new businesses online fast, improving operational efficiency and customer experience along the way, while meeting or exceeding regulatory compliance.
"Thales has been at the forefront of passwordless authentication, developing solutions that meet the needs of today's diverse workforce, from remote workers to front line office workers, so that companies in any industry can benefit from modern authentication across their entire IT ecosystem," said Sebastien Cano, Senior Vice President for Data Securuity solutions at Thales. "Passwordless authentication is an important part of our IAM vision for a simpler end user experience that is both frictionless and secure."
Alejandro Leal, Analyst at KuppingerCole Analysts commented: "As the threat landscape becomes more sophisticated, organizations understand that they need to expand MFA to a much broader range of users and applications. The value of the platform is that Thales can offer a broader range of authentication methods. Organizations in highly regulated industries, in both the public and private sectors, which need high strength MFA options may want to consider Thales' SafeNet Trusted Access."