The authentication market changes rapidly. But Thales remains ahead of the curve.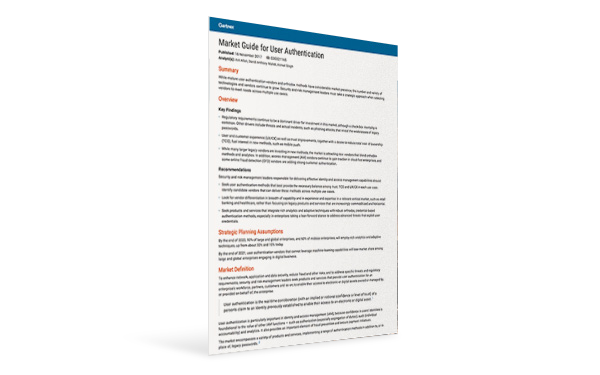 With the use of 2FA expected to rise over the next two years, leading analyst firm Gartner provides practical guidance on choosing a multi-factor platform that's right for you.
According to Gartner's latest market guide, when evaluating multi-factor solutions IT leaders should seek to:
Strike a balance between usability, security and cost.
Seek vendor expertise specific to their verticals, e.g. finserv, government and healthcare.
Combine context-based authentication with legacy 2FA methods.
Get your Free Access to Gartner's Market Guide, Courtesy of Thales
Magic Quadrant succeeded by Market Guide
As of 2016, Gartner's Magic Quadrant for User Authentication has been succeeded with its Market Guide for User Authentication. The last edition of the Magic Quadrant for User Authentication was released in December 2014. Thales, formerly Gemalto, formerly SafeNet, was the only vendor to have been positioned in the Leader's Quadrant for four consecutive years.