Thales OneWelcome Identity Platform is included in the KuppingerCole Access Management Leadership Compass 2023 analysis and is recognized as an Overall Leader and Market Leader. This is a recognition of our commitment to provide tools and services that help modern businesses of all sizes to protect themselves, their employees, partners, customers, and their most valuable assets against an evolving threat and risk environment.
The Access Management Evolving Landscape
We are living in a world where we connect everything with everything connected The shift to remote work and the ongoing digital business transformation have made us more aware of cybersecurity concerns. Hence as a result, we are redefining Access Management to embrace this environment in a constant flux.
Access Management is a set of capabilities that assists organizations in meeting their needs for providing intuitive and frictionless access while ensuring robust access control. These capabilities include authentication, authorization, single sign-on, and identity federation. In the larger context of Identity and Access Management (IAM), these areas are well-established and are gaining attention as businesses seek to integrate partners and customers.
In recent years, vendors have adapted their product architecture to support cloud-based and on-premises applications. This includes providing users with a single sign-on experience across multiple websites, portals and outlets and centralized control over user management, authentication, and access.
As the Access Management industry advances, established companies and new startups develop innovative solutions for consumers and businesses. Key improvements include simplified user experiences, and enhanced authentication processes. Additionally, contactless onboarding for employees and customers, managing human-to-device relationships, passwordless authentication, and decentralized identities are emerging Access Management trends.
Thales Leadership in the Access Management Competitive Market
The KuppingerCole Leadership Compass 2023 analysis recognized Thales OneWelcome Identity Platform as an Overall Leader and a Market Leader in the Access Management competitive market. According to the analysis, the solution is rated as follows:
Strong Positive in Security
Positive in Functionality
Positive in Deployment
Positive in Interoperability
Strong Positive in Usability
With the acquisition of OneWelcome in 2022, Thales OneWelcome Identity Platform provides a range of integrated products and services designed to cater to different identity use cases for external identities, partners, and customers.
According to the KuppingerCole analysis, the solution's strengths include:
Authorization and policy management
Broad range of authenticator types supported
Ability to comply with country-specific regulatory requirements
Flexible deployments
Strong partner ecosystem
API security
Good selection of connectors
Modern UIs and dashboards
Good reporting capabilities
The platform has an open and adaptable structure that works with current IAM practices and can accommodate future trends like Bring Your Own Identity (BYOID) for customers and employees. The Workforce Access Management feature, SafeNet Trusted Access (STA), provides easy-to-use access management and authentication tools designed explicitly for typical enterprise workforce situations such as remote access and cloud-based app access. It guarantees the utmost identity assurance, enhancing security and minimizing risks associated with workforce-related access.
Thales OneWelcome offers multi-tenant, SaaS-based public cloud deployment. Nonetheless, specific product components may require on-premises or private cloud components, provided as software deployed to a server or a Docker container.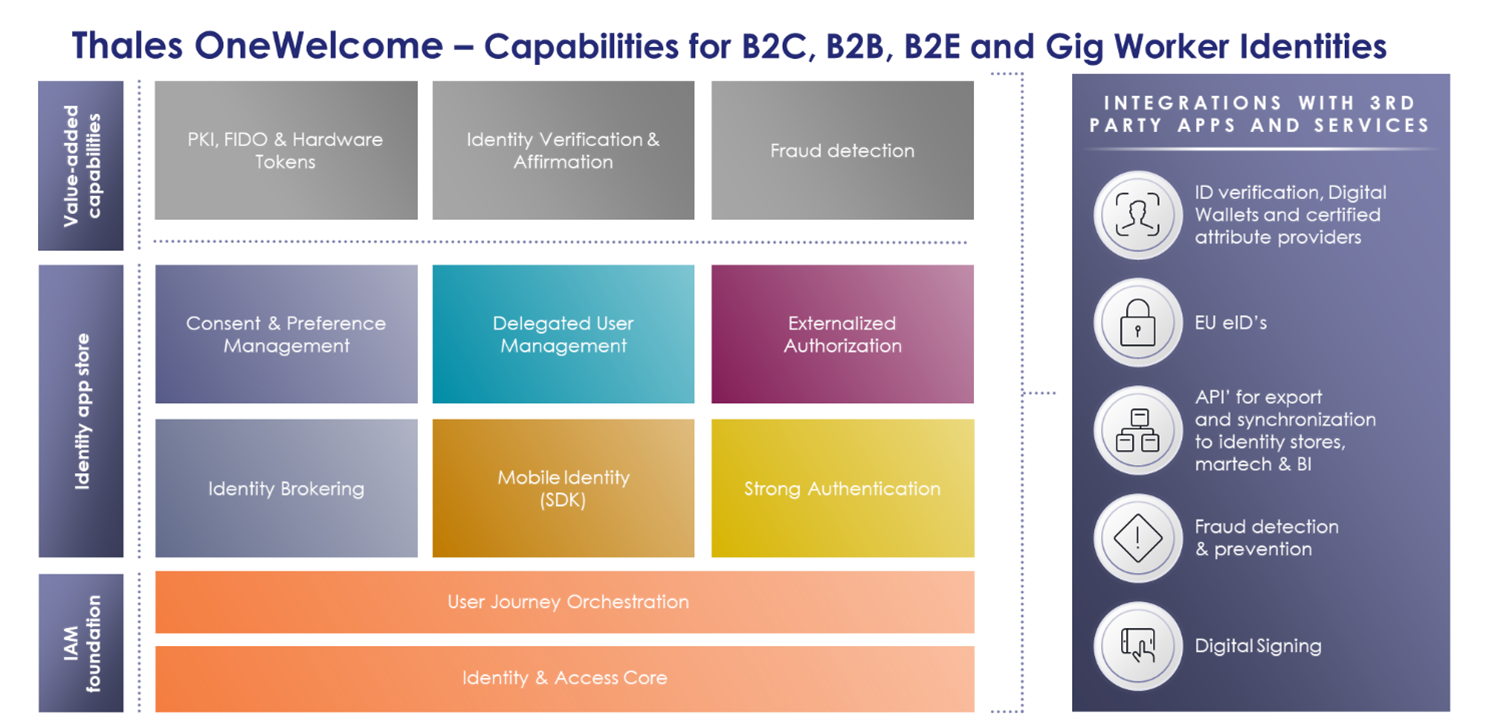 The product meets all national privacy and security laws for identity validation and verification. It has also been certified to comply with various standards, such as FIPS, NIST, ISO, and eIDAS. Thales portfolio offers phishing-resistant authenticators like Certificate Based Authentication (CBA) USB tokens, CBA Smart Cards, and FIDO2 devices pre-integrated with the OneWelcome Identity Platform. Additionally, the virtual smart card solution IDPrime Virtual allows organizations with substantial PKI infrastructure investments to switch to a virtual authenticator.
According to the KuppingerCole analysis, Thales provides a complete solution that includes the OneWelcome Identity Platform, passwordless authentication choices, and secure management capabilities for workforce access. The suite empowers organizations to improve their identity management practices, keep up with advancing technologies, and effectively protect their systems and data.
If your organization requires robust multi-factor and API security Access Management and operates in a heavily regulated environment, Thales OneWelcome Identity Platform is your solution. The platform includes a range of helpful UI, dashboard, and reporting features to help you manage your security needs effectively.
Download the full Access Management Leadership Compass 2023 report now.