In February of this year, we launched a new partner program, the Thales Accelerate Partner Network (Accelerate), for our cloud protection and licensing business. The program has quickly become a key element in Thales's channel-centric go-to-market strategy. Torjus Gylstorff, head of worldwide sales for cloud protection and licensing activity at Thales, wants to grow the involvement of its North American channel from less than 80 percent of deals today to upwards of 90 percent of deals going forward. For more on Torjus' perspective, check out this recent article in CRN on our program launch.

Let's investigate the elements of the program that have elevated its performance so far in 2020.
Accelerate your business with Thales
Committed to empowering partners to be both successful and profitable in the selling, delivering and servicing of Thales security solutions for customers across the globe, Accelerate is helping partners expand their business. In addition, the goal of the program is to enable our partners to confidently engage with customers to assess, design, implement, and support new best-in-class security solutions, as well as provide security services and address emerging compliance regulations. In a nutshell, we work closely with our network of partners to secure business together.
Shifting partner needs drove new program benefits
Developed in collaboration with existing partners from the former Thales and Thales partner programs, Accelerate delivers focused training, profitable discount structures, and the support our partners need to secure business. The rebooted program has new benefits and requirements, as well as a new Accelerate Partner Portal with enhanced functionality.
Inclusive partner ecosystem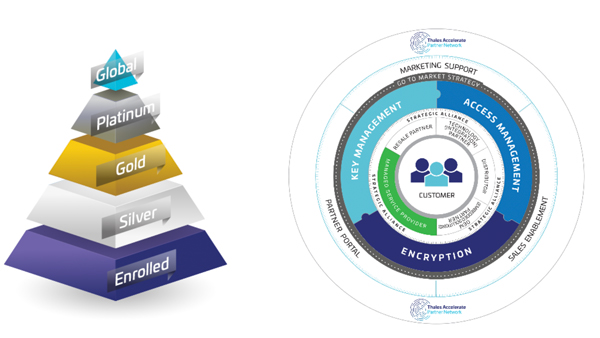 The Accelerate partner ecosystem includes value added resellers, technology vendors, embedded solutions (OEM) partners, managed service providers (MSPs), strategic alliance (systems integrators) and distributors. This dedicated partner program allows Thales to increase scale and provide greater reach to customers who need access to identity and data protection solutions.
Additionally, the Thales Accelerate Partner Network has a new partner level for Accelerate Resale Partners. In addition to the Silver, Gold, Platinum, and Global tiers, a new Enrolled tier ensures partners with minimal transactions have a place in the program. The revised partner ecosystem is the cornerstone of growing channel sales for Thales. Together, Thales helps customers adapt their business and security needs to meet the challenges of cloud, mobility, and escalating threat vectors. This revised partner ecosystem has laid the groundwork of channel sales growth for Thales.
New partner portal customized with modern tools
One of the program benefits the Thales channel team, as well as partners, are most excited about is the brand new, state-of-the-art Accelerate Partner Portal. The portal offers many opportunities for customized communication with partners, as well as modern tools to support their training and enablement efforts, and, ultimately, their ability to enhance customer engagement and sales.
The new portal includes exclusive functionalities, such as providing information for guided selling based on the stage of the opportunity, one-click campaign execution, and enhanced status visibility for executives. The portal also features new tailored, partner type views, such as distributor, managed service provider, technology integrator and value-added reseller.
The network continues to include updated training certifications for both technical and sales staff, and deal registration.
Learn more about what the Thales Accelerate Partner Network can do for your organization to provide unrivalled security offerings to customers, while expanding revenue streams.