Rapid growth of mobility and business essential applications is driving enterprises to demand more deterministic wireless solutions that address critical performance, reliability, security and coverage problems inherent in conventional enterprise wireless. This is driving a strong demand for private mobile networks. These private mobile networks are gaining significant traction in manufacturing, energy, government, logistics, and warehousing verticals. To meet this demand, Celona has combined the simplicity of Wireless LANs with advanced cellular technology to build an enterprise focused private mobile network architecture called "5G LANs".
As 5G technology becomes more available, these private mobile networks are transitioning from private LTE to private 5G networks. This transition is an opportunity to look at the next generation of security. Specifically, how can organizations apply high levels of security to 5G infrastructure without sacrificing performance? Thales and Celona have collaborated to bring security and performance to private 5G networks.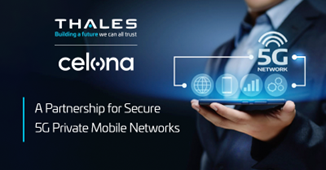 5G and Security
Celona's private 5G LAN networks are powered by an enterprise centric, cloud-native architecture that offers an enterprise-class access solution that keeps control and data in the hands of enterprises - right where it belongs.
To enable private 5G networks to deliver on the promise of greater security and high performance, especially in high value high security environments, security solutions with low latency, negligible jitter and maximized throughput is non-negotiable.
Thales High Speed Encryptors (HSE) encryption devices are built to meet the exponential growth of data streams 5G will facilitate and trusted to protect network-transmitted data in more than fifty countries globally.
Celona knows enterprise 5G like Thales knows security, so a collaboration was inevitable. With a Celona Private 5G network and Thales' High-Speed Encryption (HSE) solution, organizations have what they need: a unique, highly reliable, secure wireless connectivity solution with low latency and high security, all without sacrificing speed or manageability.
The Benefits of the Joint Solution
Thales and Celona believe that customers should not have to choose between performance and security. The Thales and Celona Secure Private Wireless Solution ensures high-performance private networks with low latency and high protection.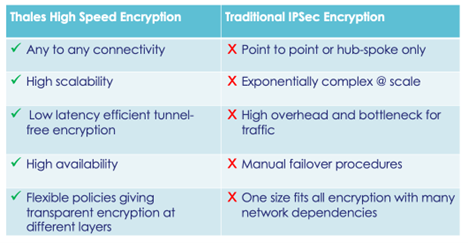 What makes Thales security the optimal collaboration with Celona Private 5G Networks? To start, Thales offers full-line rate encryption at high speeds - up to 100Gbps - with nearly zero jitters and ultra-low latency rates.
The encryptors offered by Thales have the broadest range of independent certifications on the market, as assessed by third-party labs worldwide. Certifications include:
FIPS140-2 Level 3
Common Criteria EAL2/4+
DoD APL
NATO Restricted
ASD ISM
The threat landscape continually evolves, leading to more substantial threats and security standards to match. Quantum-safe security (or quantum-safe cryptography) addresses the need to identify attack-resistant algorithms and increase protection from both classical and quantum computers.
Thales HSE devices have implemented quantum-safe security in advance of the formal NIST Post-Quantum Cryptography standards:
Support for hybrid dual certificates to allow hybrid classic/PQC key establishment across layer two networks
Support for connections to ETSI-014 QKD standard appliance
Private 5G Networks from Thales and Celona
Celona and Thales are collaborating to create the industry's leading solution for the most secure, high-performance private 5G solution that can benefit a wide spectrum of industries, including government and defense.
By combining modern access point technology and the latest advancements in security, organizations can take advantage of the full range of 5G benefits, including:
Performance and reliability
Future-proofed, high-assurance data in motion security
Data and operational control of a private 5G network
Explore our detailed paper on how our technology collaboration with Celona helps you achieve a highly secure, low latency, private 5G network. You can also come and meet our team at Mobile World Congress in Barcelona, Hall 2 Stand 2J30.